Andaz Mayakoba
For my birthday we went to the Andaz Mayakoba in Playa del Carmen for 5 days and 4 nights and it was UNBELIEVABLE to say the least!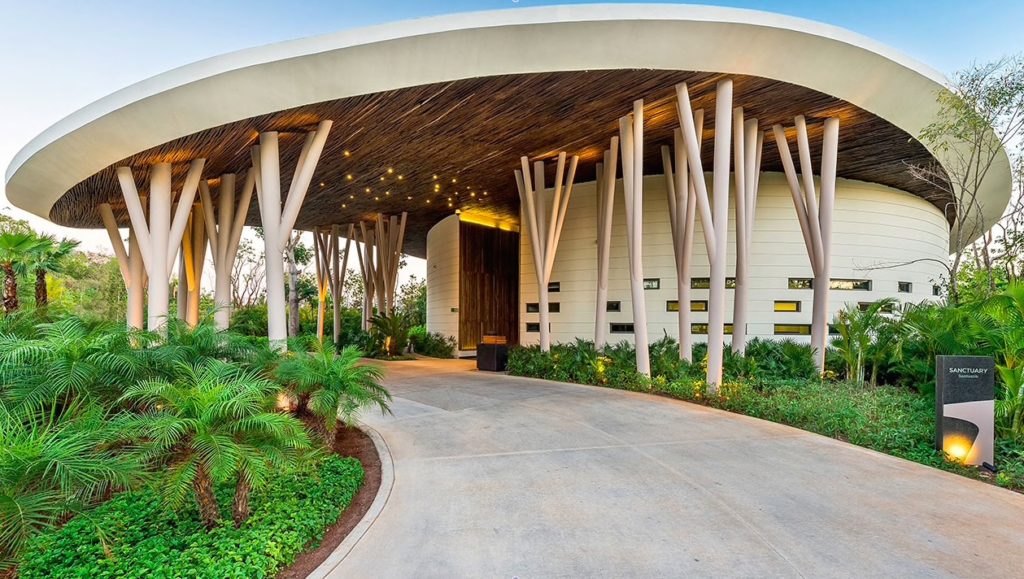 Shortly after landing in Cancun, our driver picked us up and we were on our way to paradise (in other words) the Andaz Mayakoba. We had time to take in the absolutely gorgeous scenery, since the resort is about 40 minutes from the airport. It really was nice after the flight to just sit back and get excited about the wonderful days that lay ahead.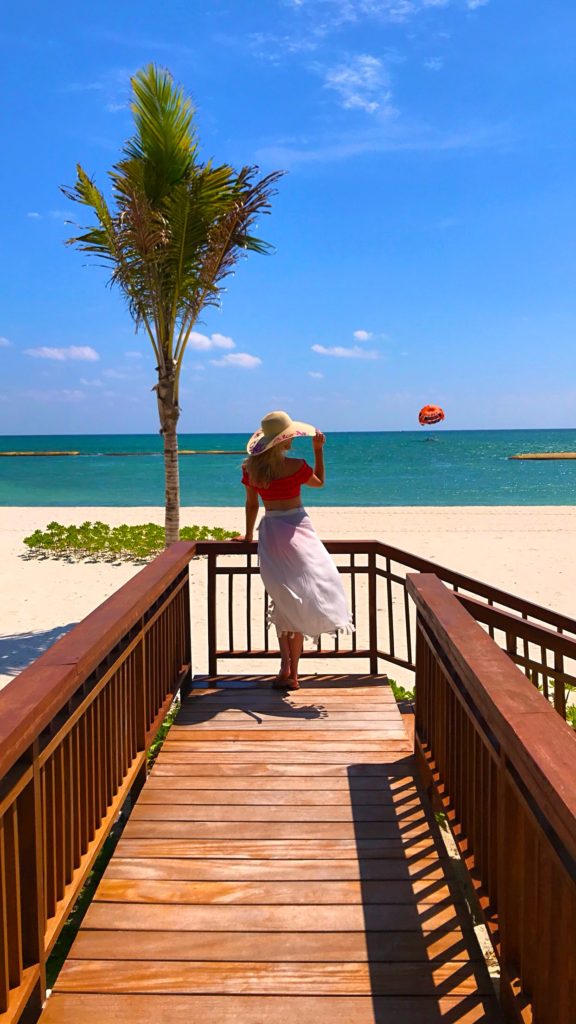 We pulled up to Mayakoba and entered through the guard gated entrance. Within Mayakoba there are several other luxurious resorts and we let the guard know we were headed to the Andaz. A few minutes later, we arrived at the sensational Andaz Mayakoba!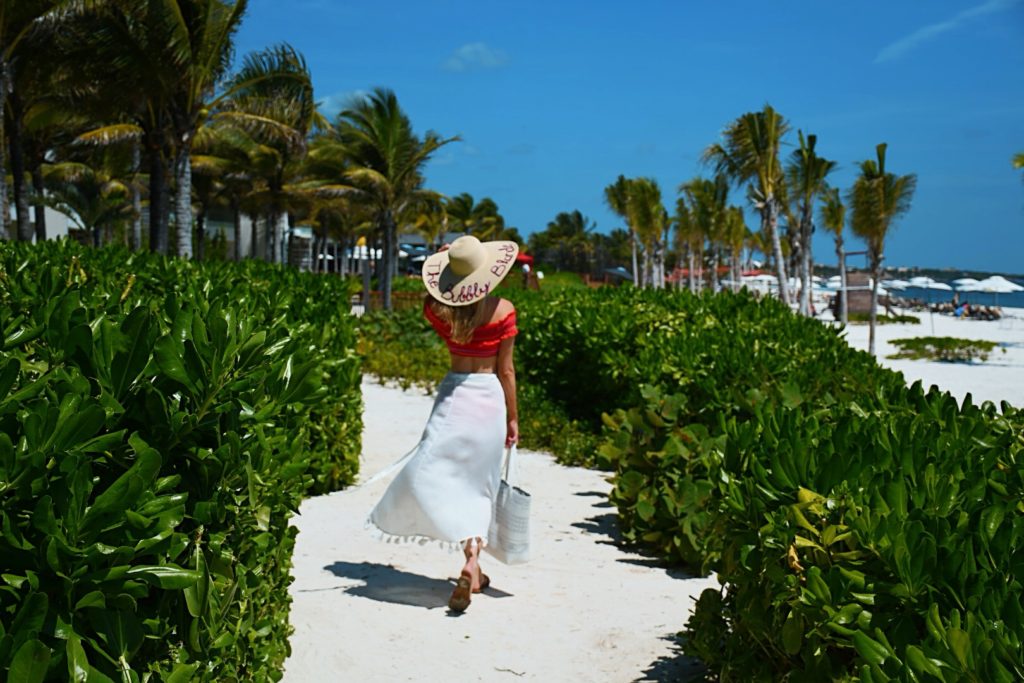 The Andaz Mayakoba lobby is very beautiful and open. Our check-in process was easy since most of the accommodating staff speaks English. We were whisked to our hotel room via golf cart and we couldn't help but notice there were bikes everywhere. We asked about this and our driver let us know that guests can pick up any bike and ride to a destination within the resort, so fun! Little did we know how much we would enjoy biking around this amazing resort!
Once settled into our beautiful room, we realized we were hungry (since it was dinner time) and we wanted to watch the amazing sunset at one of the beach restaurants.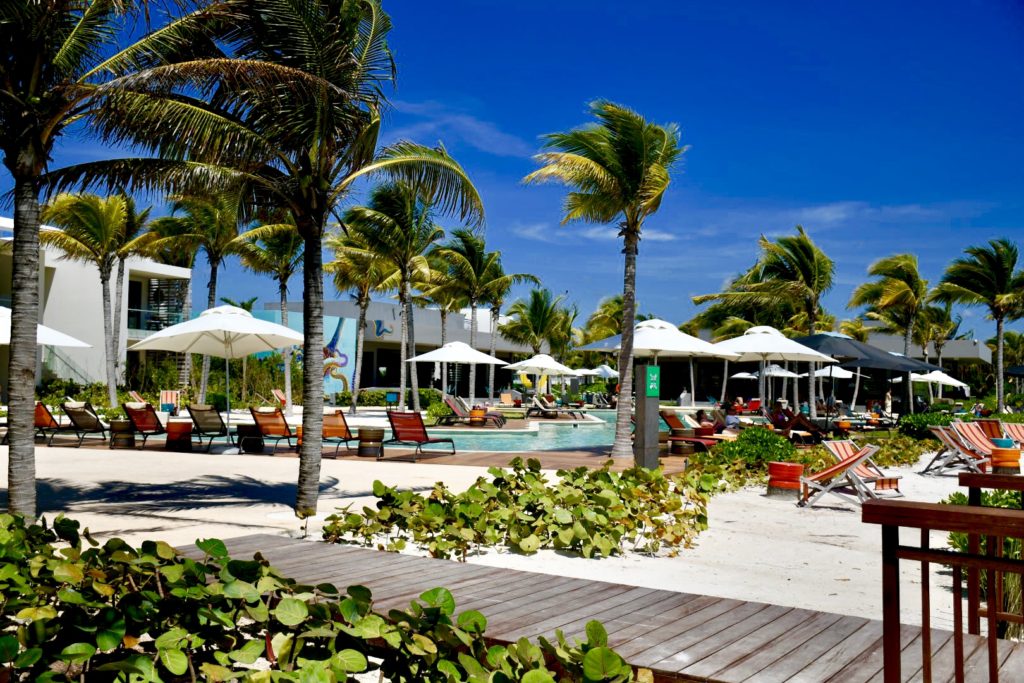 There are two Andaz restaurants located on the beach, Ollaceviche and Ollataco. We chose Ollataco and couldn't have asked for a better setting.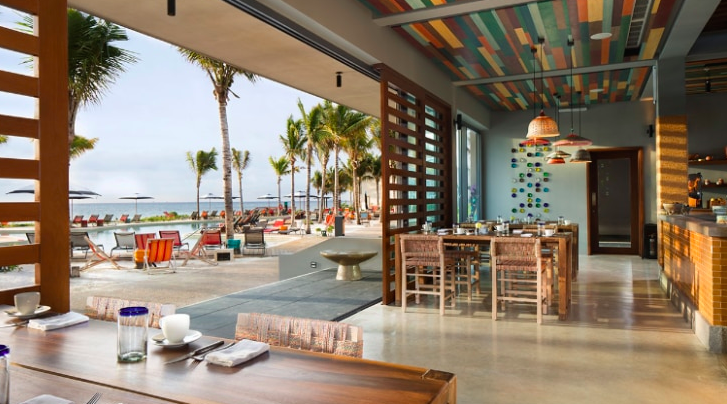 Just imagine cocktails and dinner on a beautiful patio overlooking the beach, a light tropical breeze making the palm trees sway along the ocean and its gentle waves just a few yards away. We realized we were in paradise. It was a wonderful and very relaxing evening.
The next morning (my birthday!) we got up and went straight to the beach. Taking a golf cart to the beach we noticed a lagoon that runs all around Mayakoba, our driver let us know we could take a Duffy ride around the lagoon later and we decided this was definitely on the "To Do" list.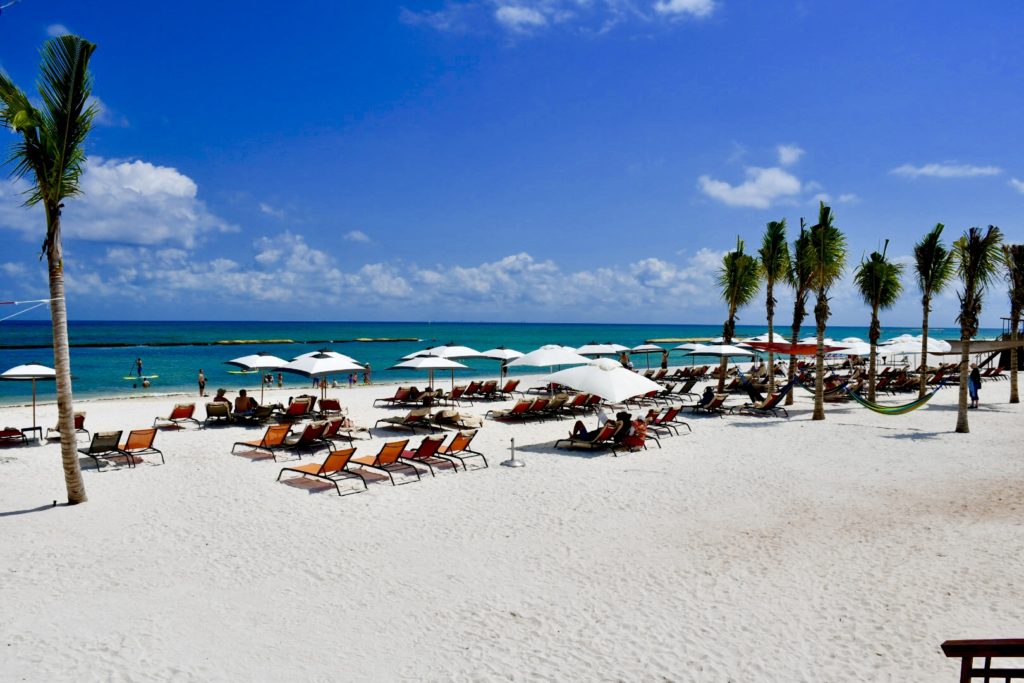 Ok, so now let me tell you about the beach! No wonder it's called the Mexican Riviera! The beach is huge, with pure white sand, which is incredibly soft. Palm trees are everywhere, many with inviting hammocks swinging in the balmy breeze.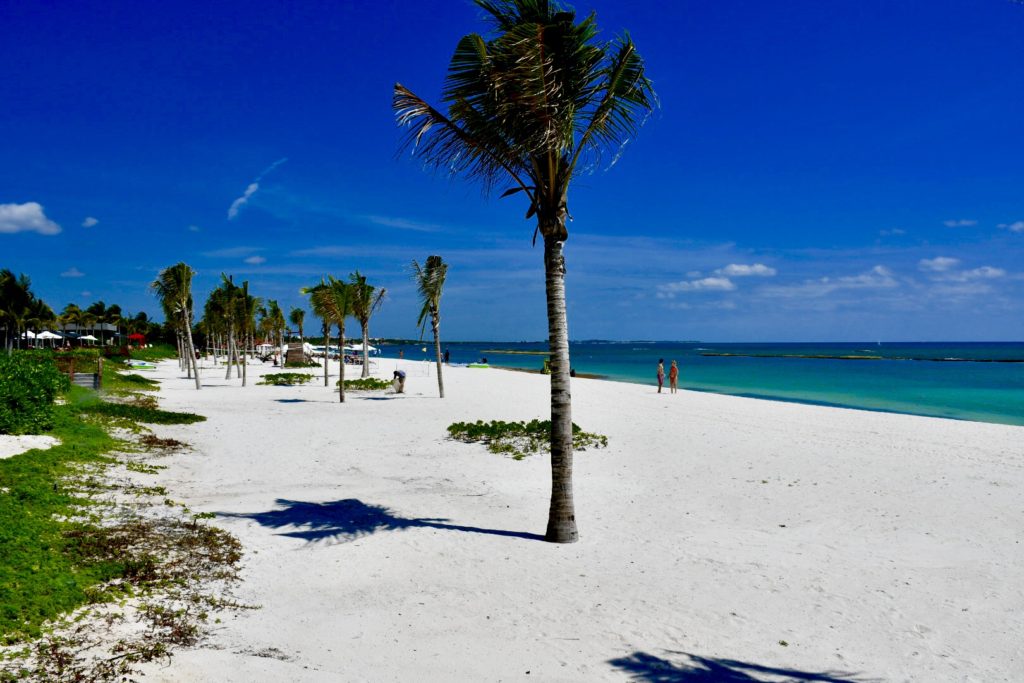 (Our day at the beach had just begun and I was already considering a siesta!) The water is a gorgeous crystal turquoise blue and (of course) the perfect temperature. We enjoyed a lazy day at the beach, swimming and sunning until it was almost time for dinner. That evening, we chose Casa Amate, which serves dinner exclusively.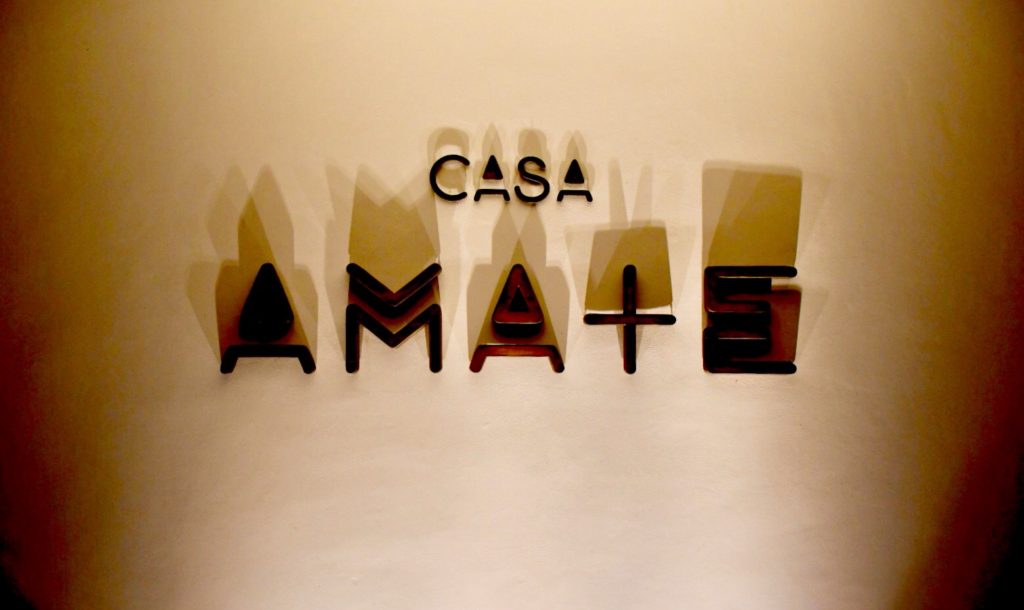 Casa Amate has a diverse Latin American cuisine and is designed like a beautiful, intimate home. It's built around a gorgeous courtyard, which overlooks the resort's surrounding lagoon. Inside the courtyard, there's a special Amate tree, which is where the restaurant gets its name.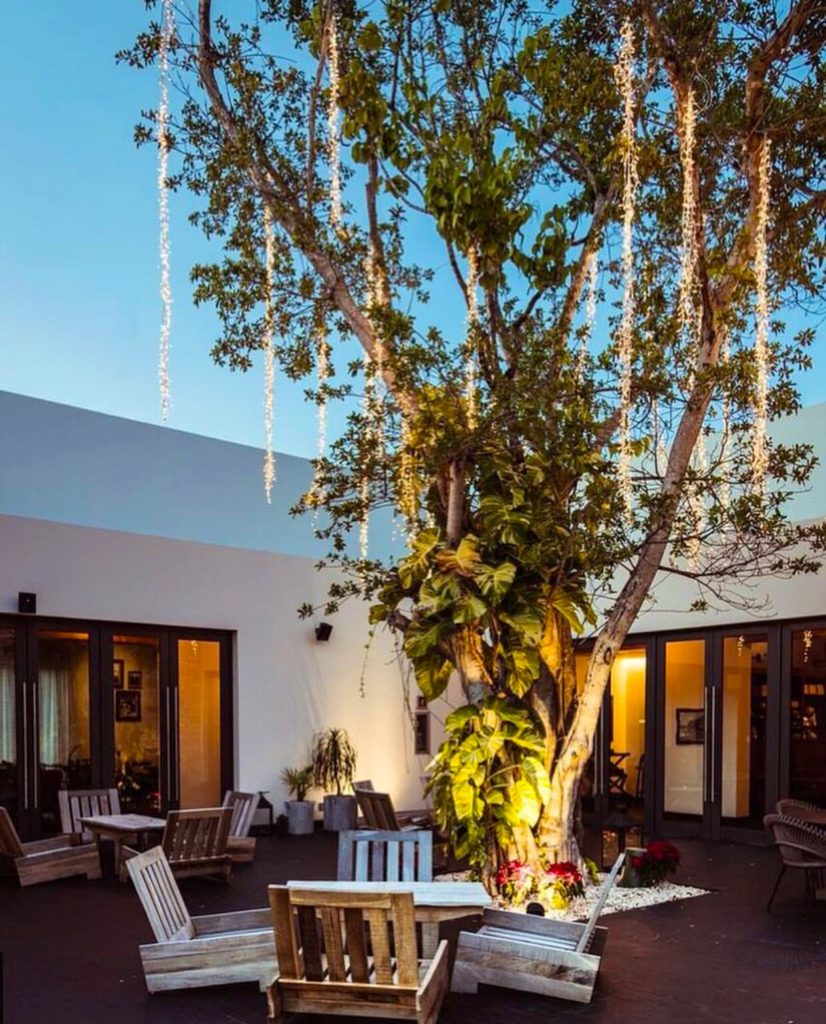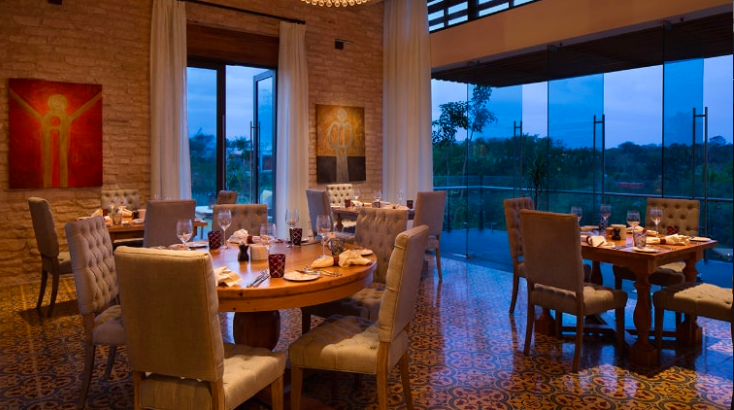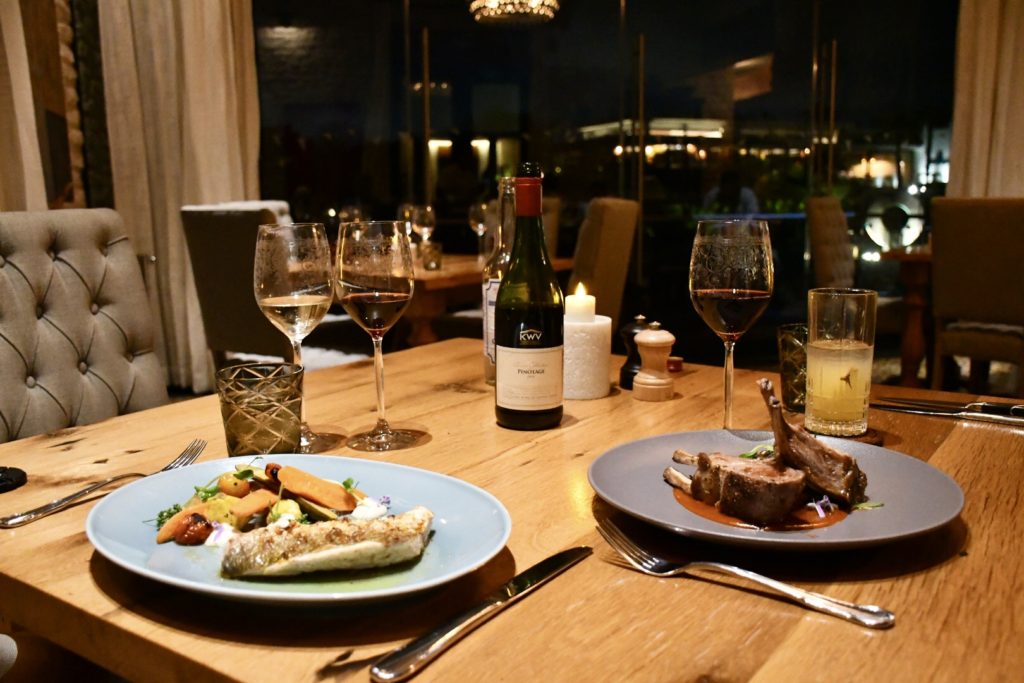 Every dining room within Casa Amate has specific names that include a "Bar Studio", "Library", "Estancia" and "The Comedor." We had the most incredible dinner, which made my birthday even more special.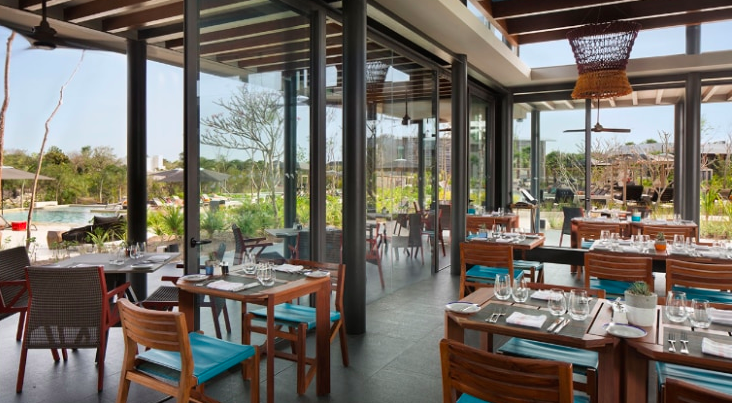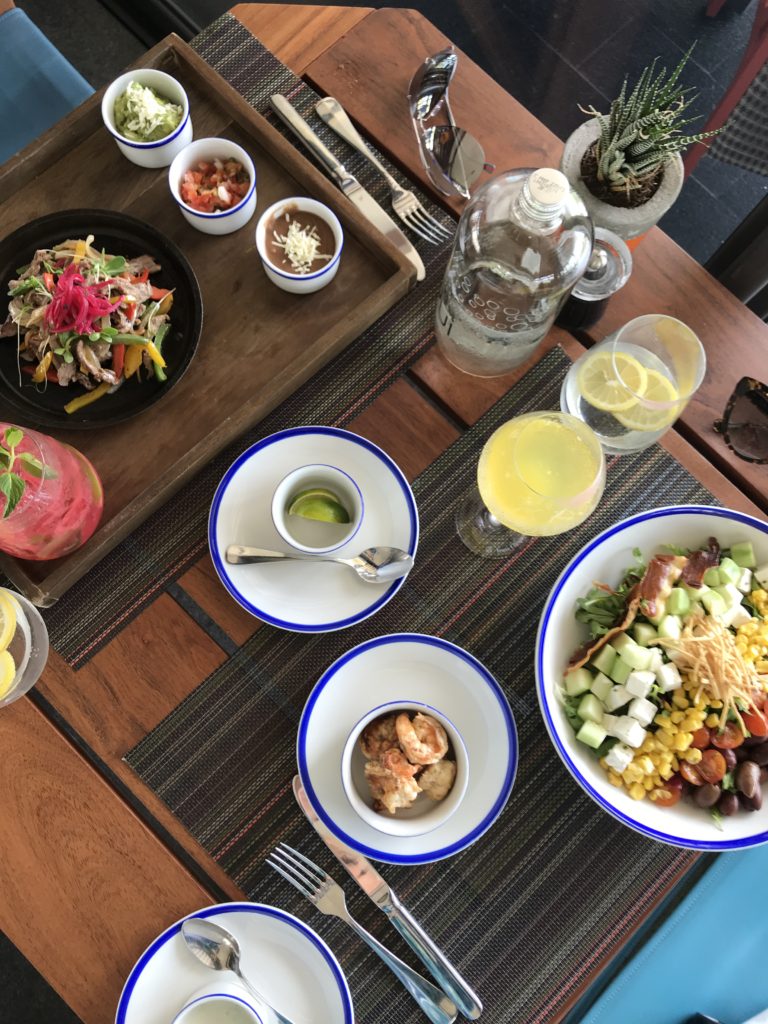 The next morning, we had breakfast at Cocina Milagro and decided to ride bikes around the property and see all the tropical life.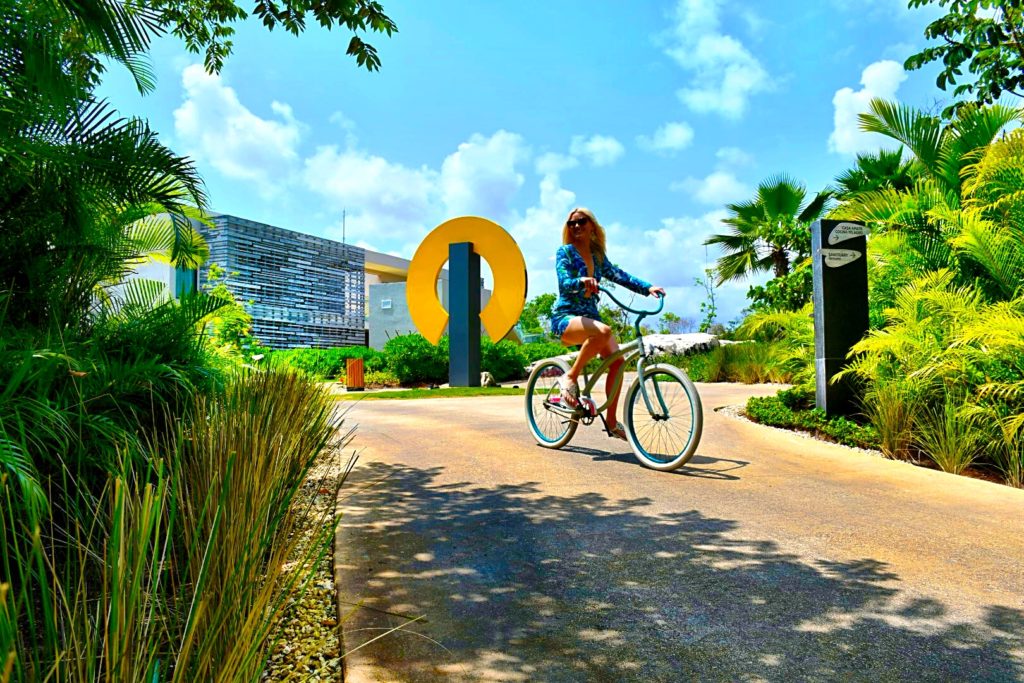 On our bike ride we saw monkeys, we also saw what they call a "Mexican Raccoon", lizards and beautiful colored birds. We rode our bikes to the beach, enjoying the day very much!
However, a tequila tasting at Ollaceviche (one of the restaurants at the beach) was calling our names….Seriously, I had NO idea there were so many different tequilas…they had every kind from sweet to dry.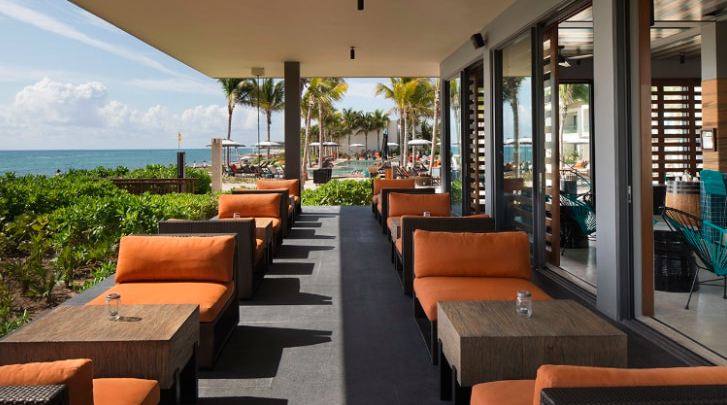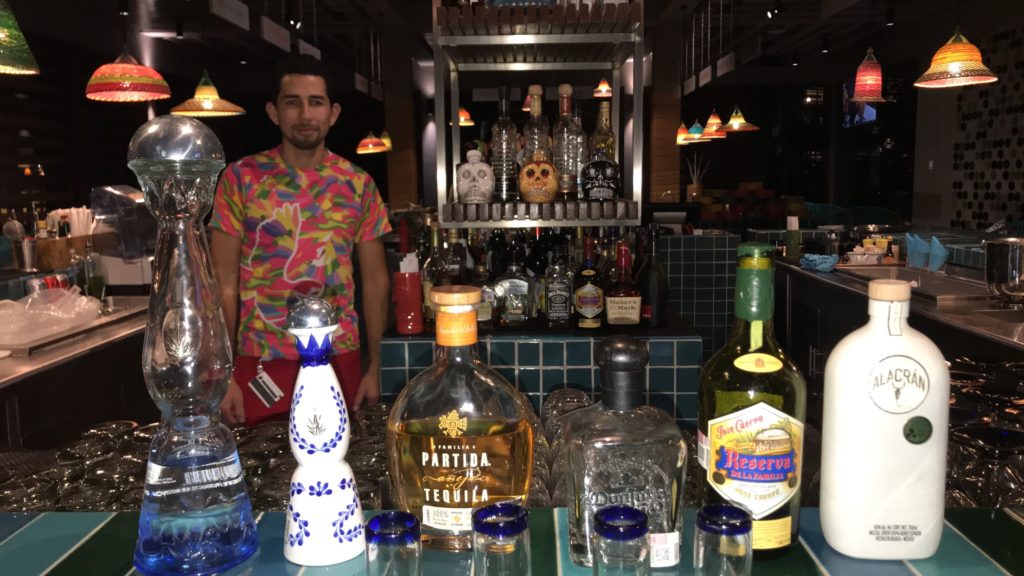 Honestly, I don't remember the names other than some were great! Ha! After doing some tequila tasting we took a Duffy ride from the beach to our room, I loved this experience!
Throughout Mayakoba lagoon, we saw crocodiles!! Oh MY! I had no idea! It was incredible seeing them and I felt like a total tourist taking photos of them.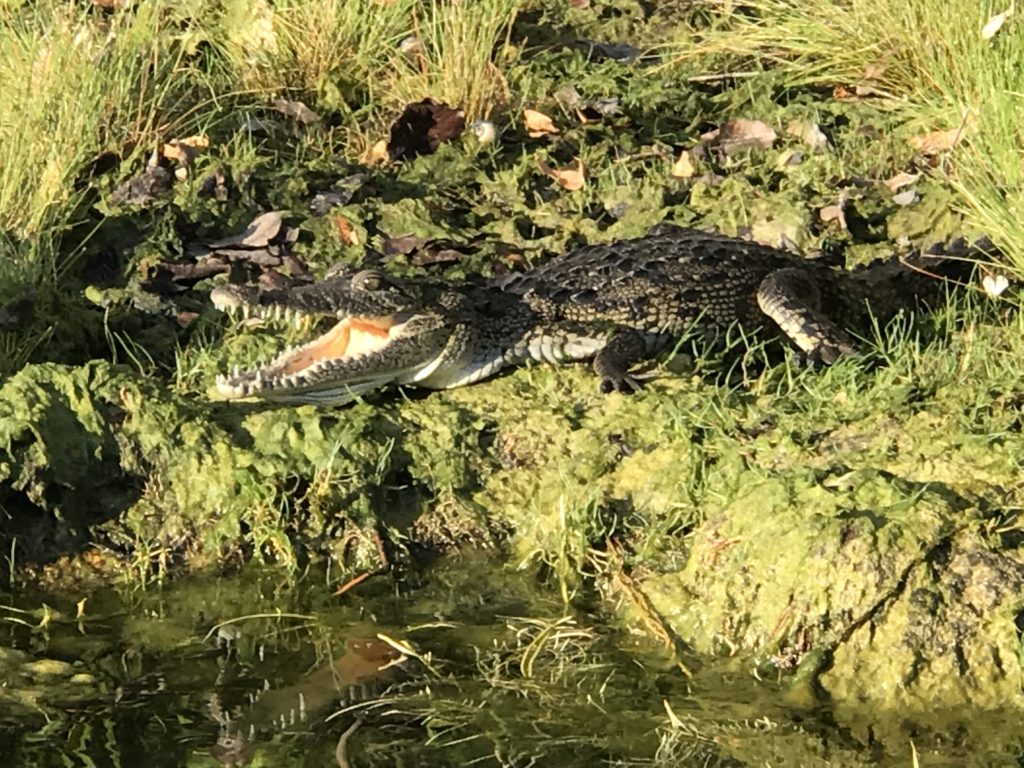 The ride lasted about 10-15 minutes and we thoroughly enjoyed it. The property is beautiful and it was a great way to experience the Andaz from the water.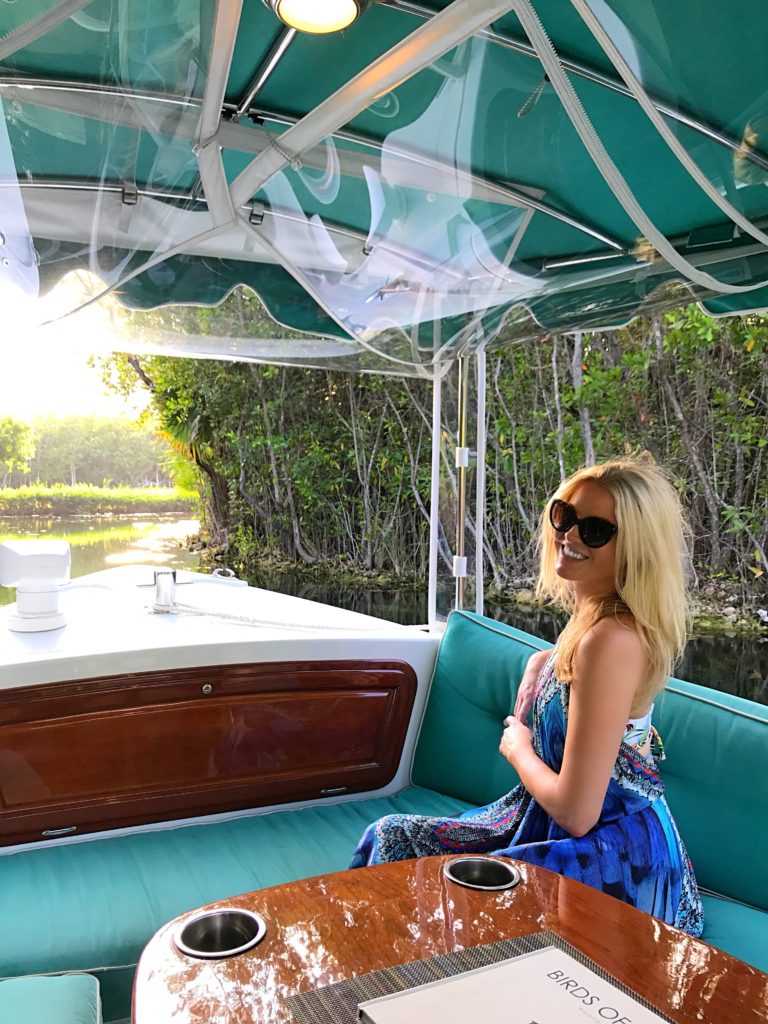 Swimsuit | Dress | Sunglasses
That night we went into the town of Playa del Carmen and walked around the charming streets of the 5th avenue. We did some shopping, had a casual dinner at a spot where the locals dine and listened to the beautiful music that was playing all around us. It was another great night!
The next day (our last day in paradise) we went to the beach for a bit before we whisked away to the Naum Spa where we had the most FABULOUS 75min massages. Yes! This was a perfect way to end a perfect vacation.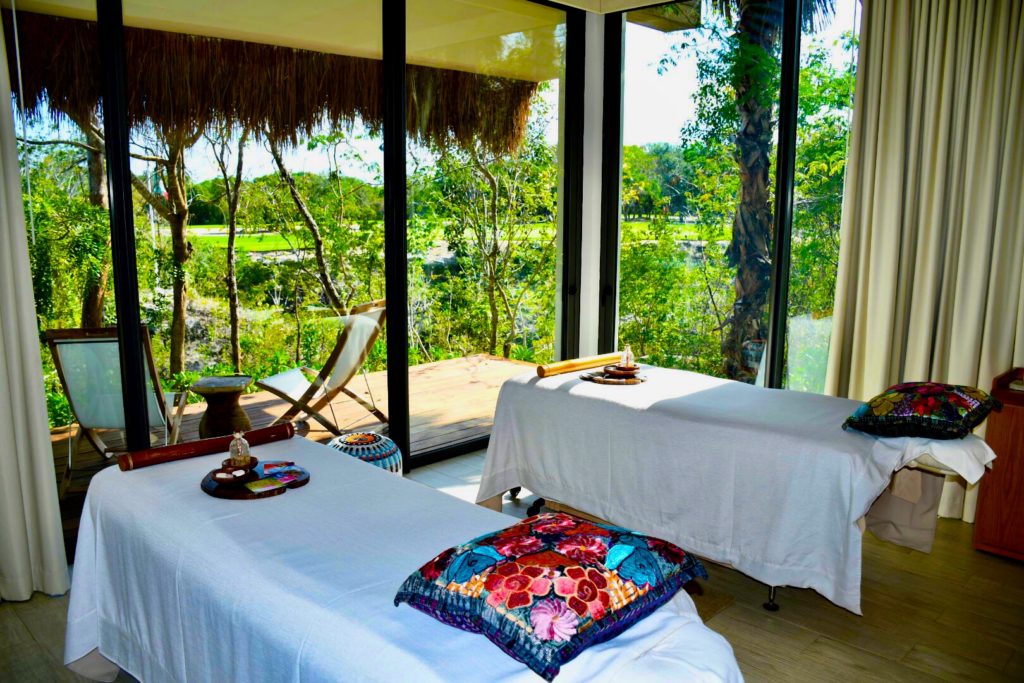 The next day our driver took us back to the airport (and reality!) but we have continued to reminisce about this fabulous vacation. I've said it before and I'll say it again, the Andaz Mayakoba is truly paradise and I cannot wait to go back!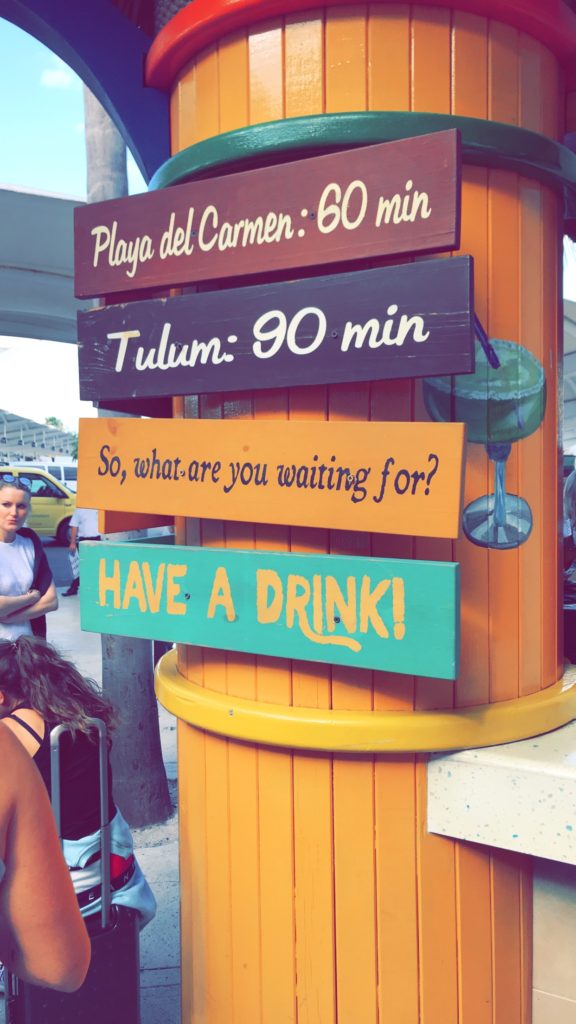 xo
*Thank you Andaz Mayakoba for sponsoring this post