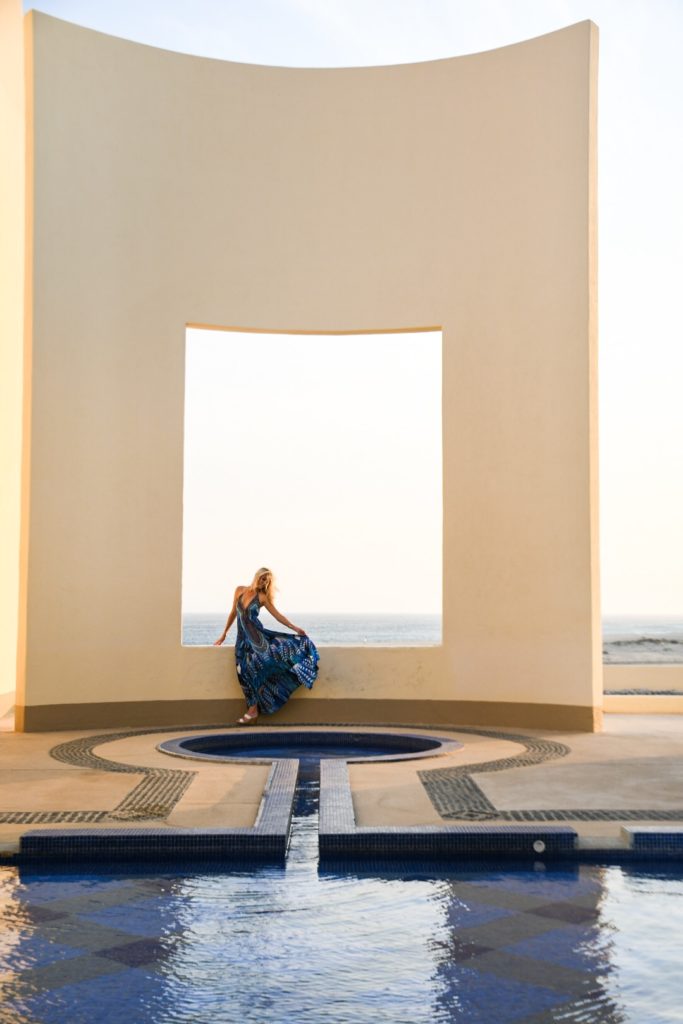 Before I begin this amazing story, I must tell you that this was the best, most relaxing and romantic vacation I have had in a while. If you are looking to truly relax with friends, loved ones (please note- this is an adults only resort) or even by yourself – look no further than the Pueblo Bonito Pacifica Golf & Spa Resort.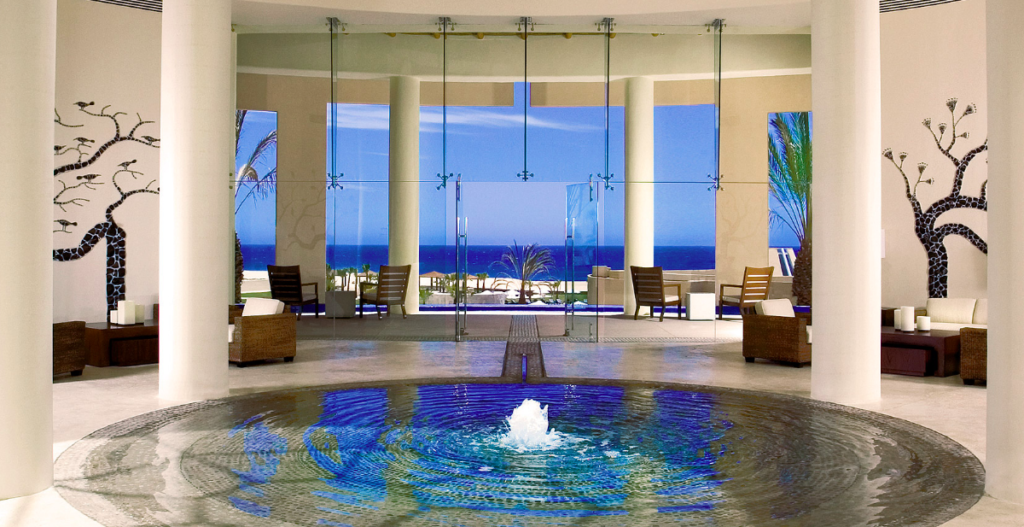 This luxury, all-inclusive property caters exclusively to adults seeking a tranquil, oceanfront hideaway just steps from the sand and minutes from downtown Cabo San Lucas. We enjoyed everything so much that we never left Pueblo Bonito Pacifica and actually didn't need to. Now, wait until you read about this incredible stay!
After a quick flight from Phoenix, AZ (2 hours), we arrived in Cabo to a nice breeze and 85 wonderful degrees.
The resort had a car and driver waiting for us (nice touch!) and after a scenic ride; we pulled into the beautiful Pueblo Bonito Pacifica. Let me tell you, I was ready to get the relaxation started!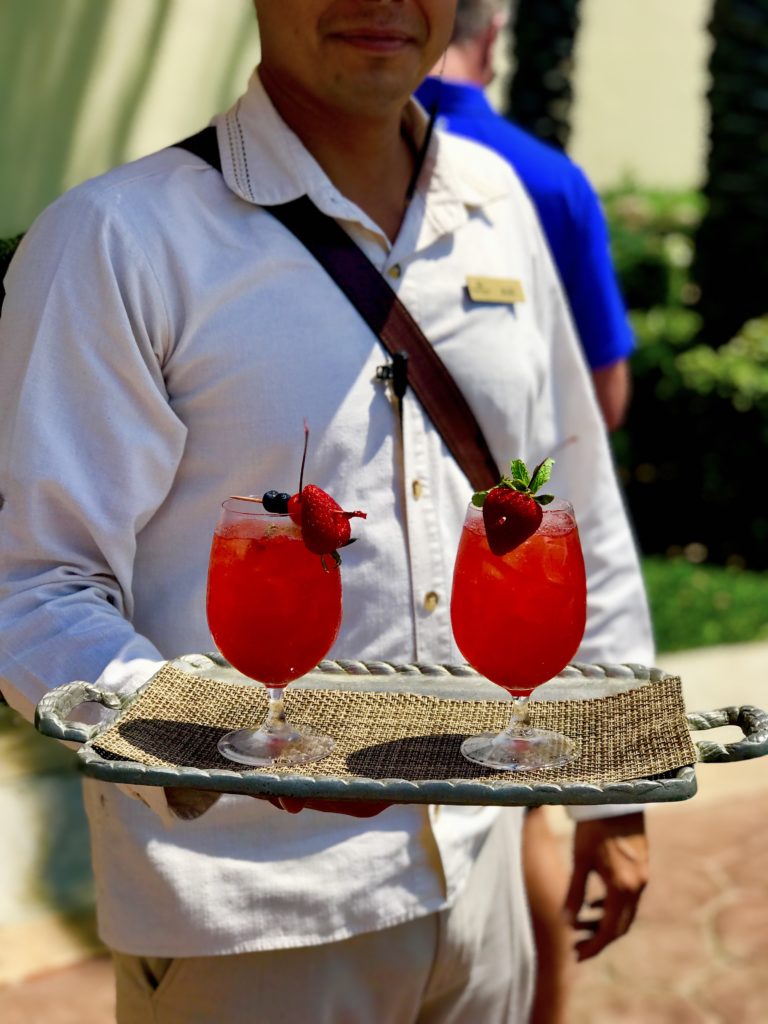 Upon arriving at the Pueblo Bonito Pacifica, our personal butler Yomali was waiting and greeted us with refreshing strawberry mojitos, which were delicious! (and WELCOMED!) Yomali was absolutely exceptional throughout our entire stay- personal, intuitive and discreet.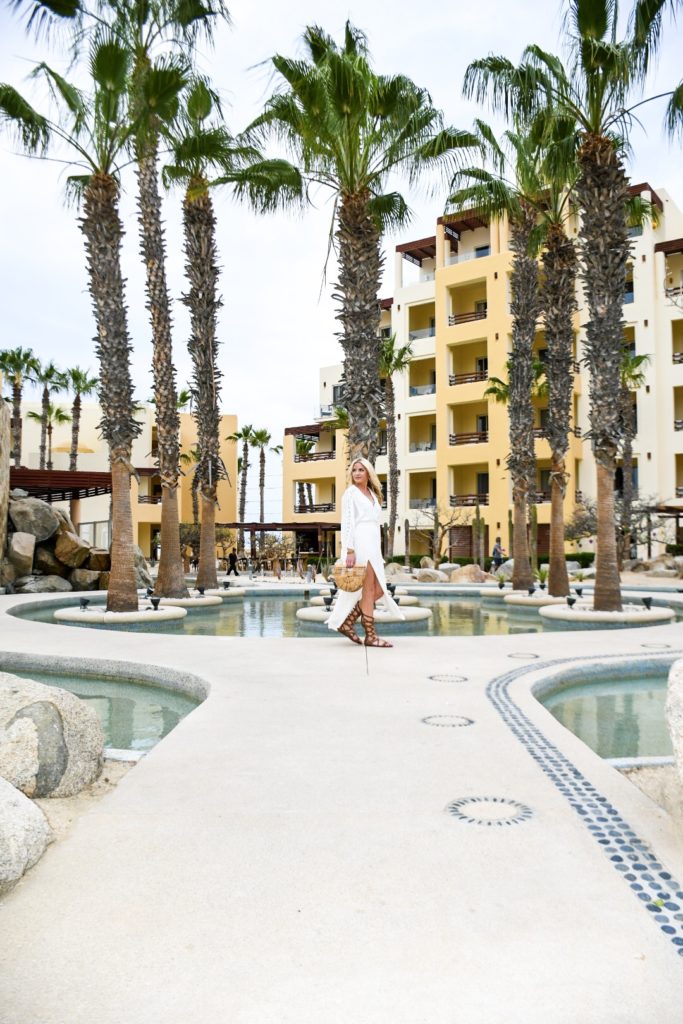 We stayed in the Towers, where guests are treated with 24/7 top-notch pampering by butlers certified by the British Butler Institute (personal in-room check-in and check-out, shoe shining, unpacking and packing services, assistance with reservations and a variety of signature services and rituals). Ok, I am now quite spoiled!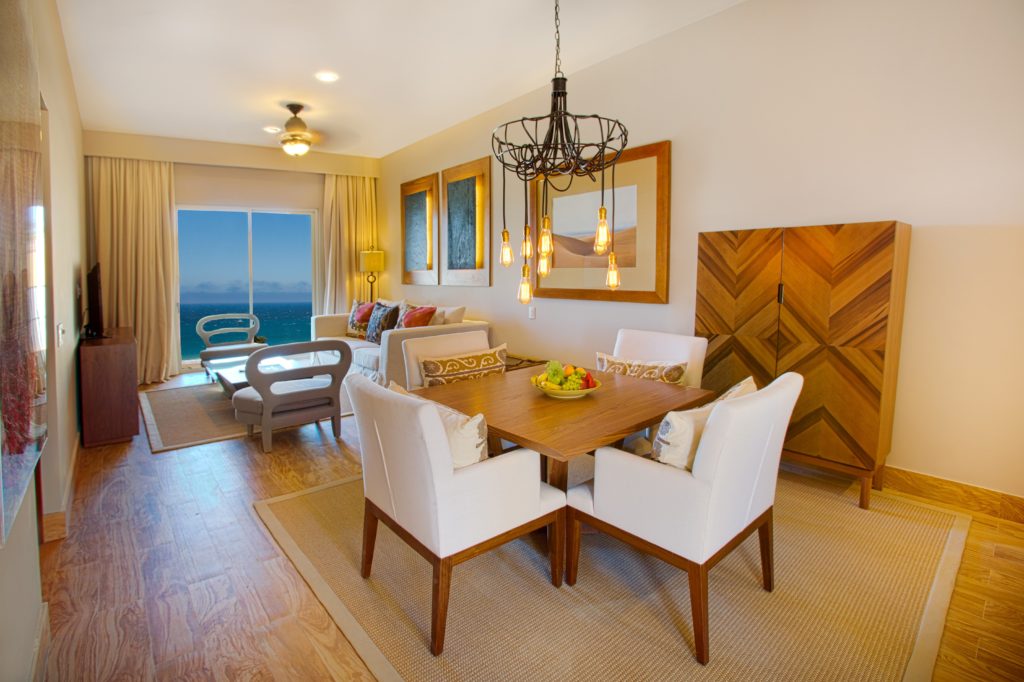 Settling into our Towers Suite, we roamed around the suite, enjoying our large patio terrace, sipping our strawberry mojitos, enjoying the amazing ocean view, the sea breeze and of course, those strawberry mojitos!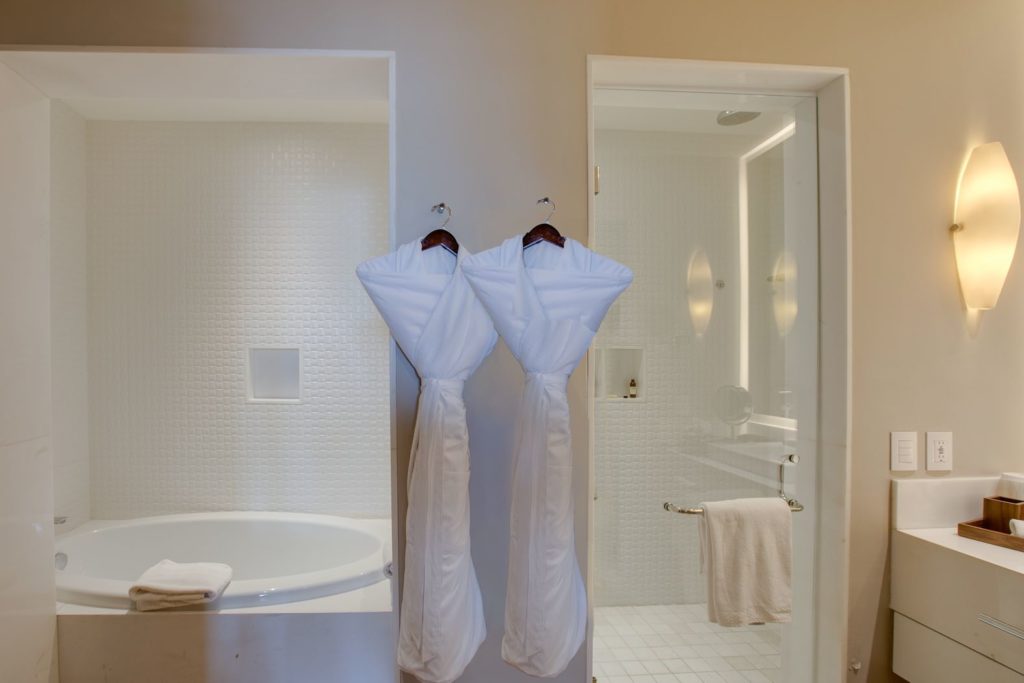 We couldn't wait to begin exploring the beautiful property and agreed that relaxation had officially begun.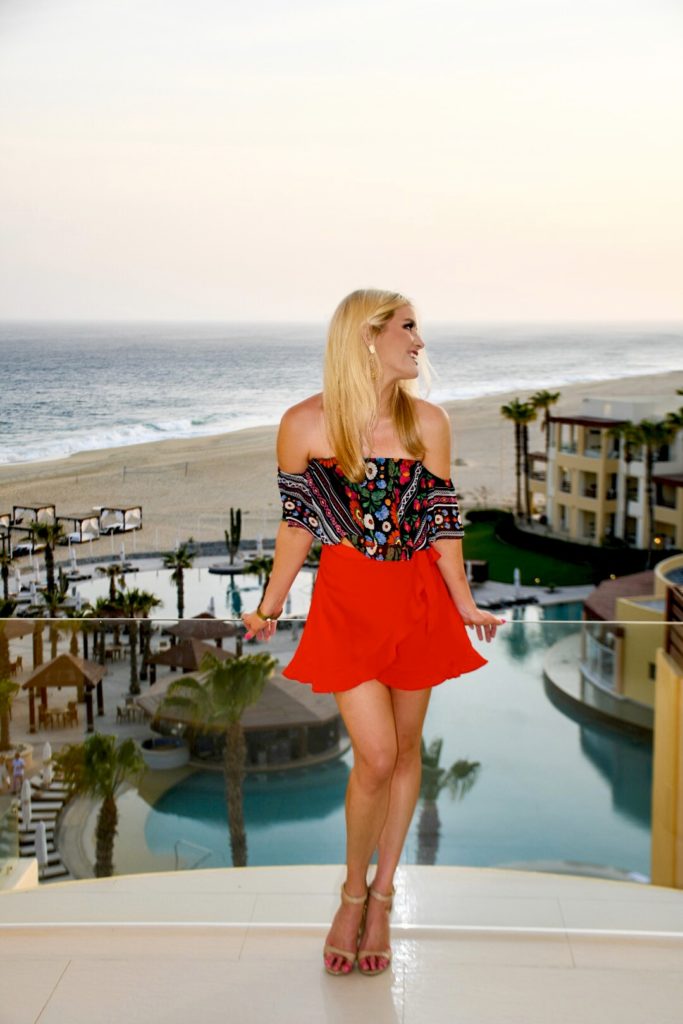 That evening, we dined at the Peninsula restaurant, which is located in The Towers at Pacifica and boasts unparalleled views of the Pacific Ocean.
I don't know what it is about the sound of the ocean, but paired with a fabulous dinner, gorgeous views and crashing waves…well, you get the idea!
Peninsula is the newest restaurant at Pueblo Bonito Pacifica and features traditional Baja cuisine with a strong emphasis on native ingredients of the region.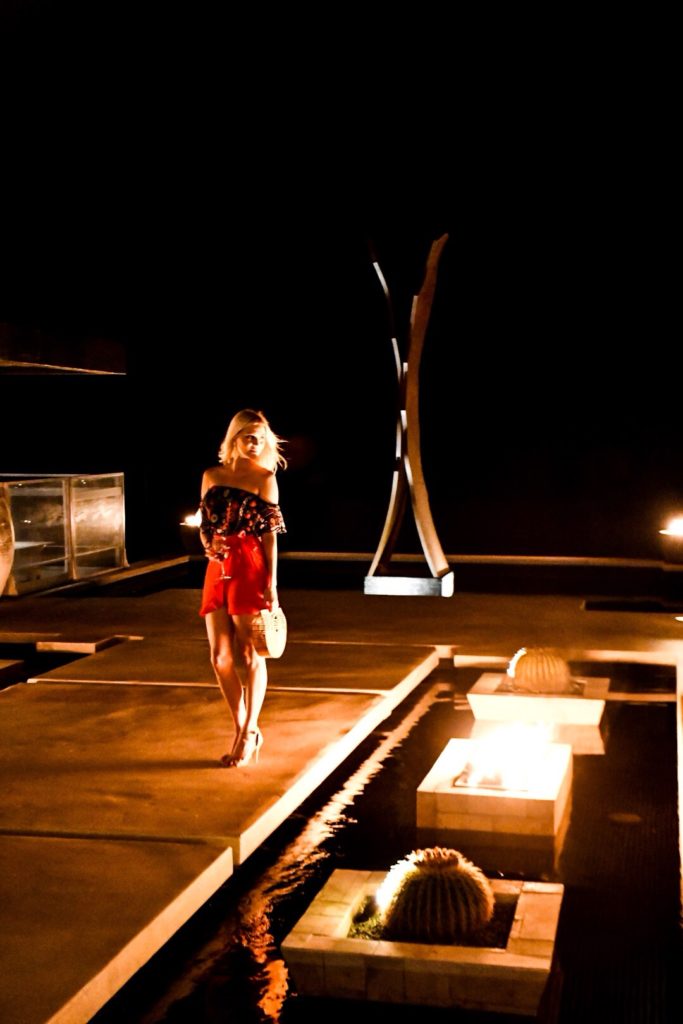 After dinner we found the outside bar, where we listened to local music before heading off for a great night's sleep.
The next morning we were scheduled for breakfast on the beach, which sounded so casually elegant. Now I have had breakfast at the beach in many different locations, but never ON THE BEACH!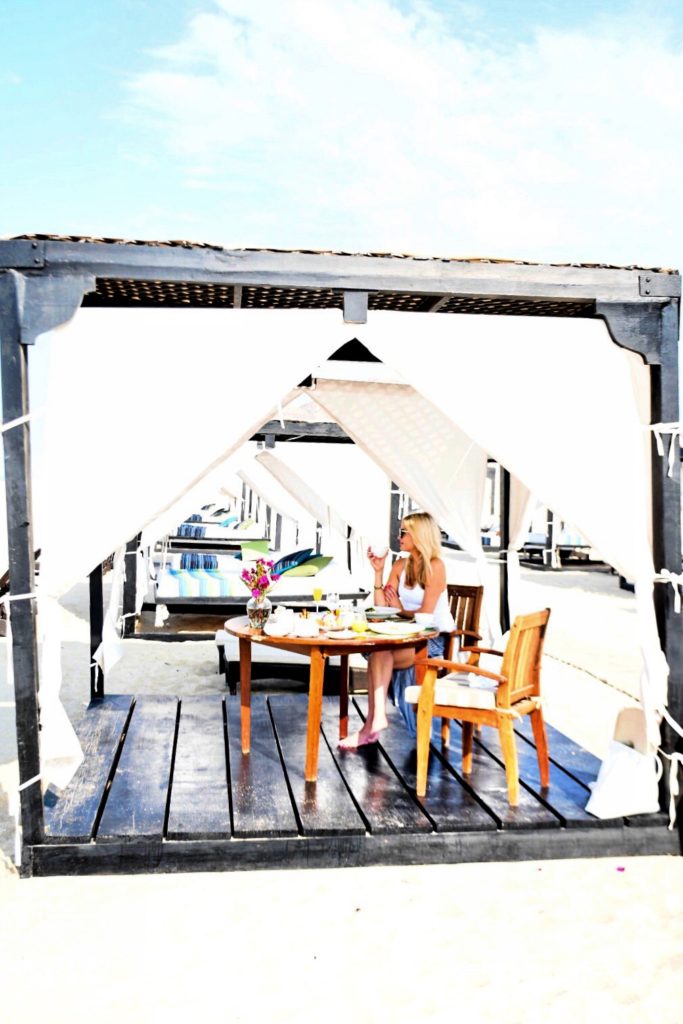 So just know this wasn't any typical breakfast on the beach…we had our own private cabana and they even wrote my name, "McKenna" in the sand in huge letters in front of the cabana!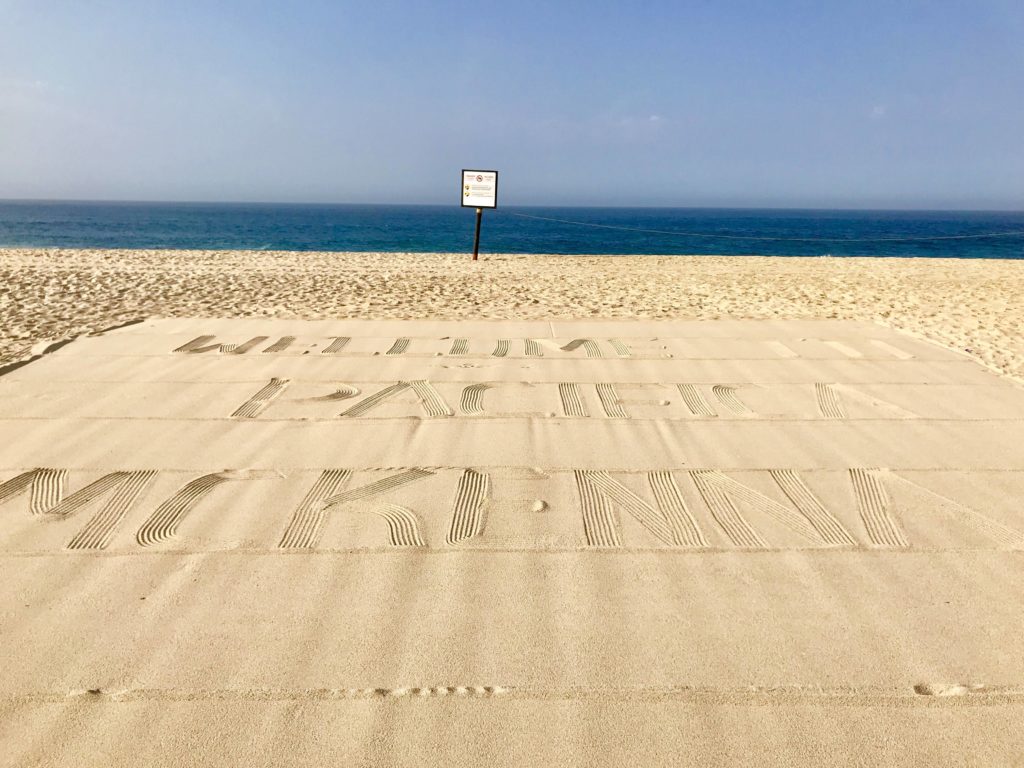 Again, the detail was very, very special!
The beach is so fresh in the morning and paired with a great breakfast – it was more than casually elegant. It was sensational!
At 11am we were picked up and driven to their Quivira Golf Club to play some golf. This was the most stunningly beautiful golf course I have ever seen!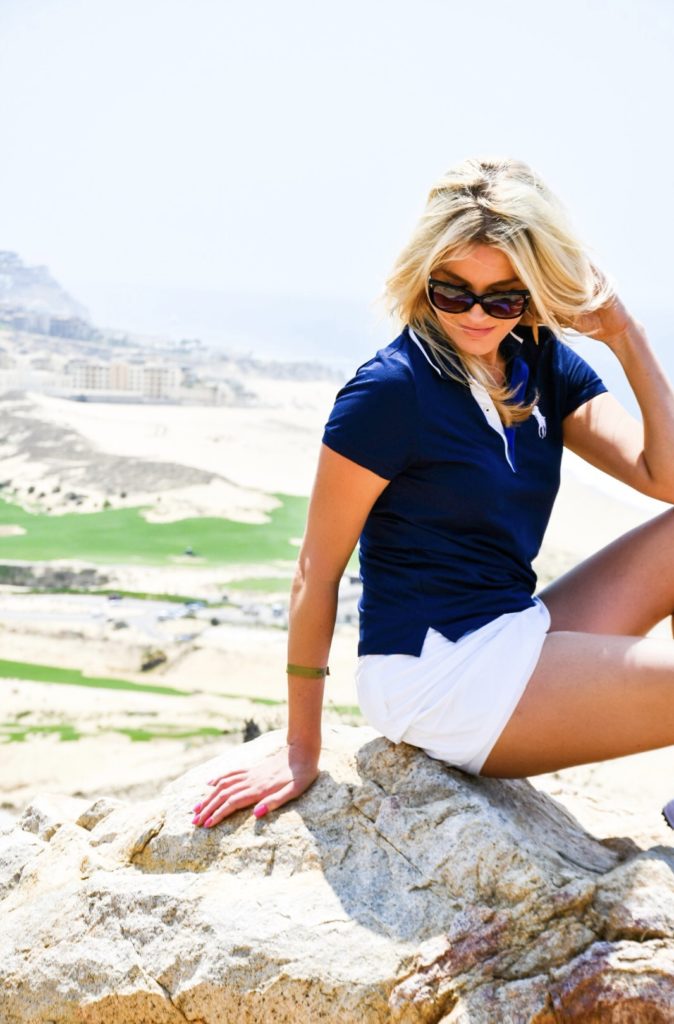 Golf Digest calls Quivira one of the world's 100 greatest golf courses and I can now understand why.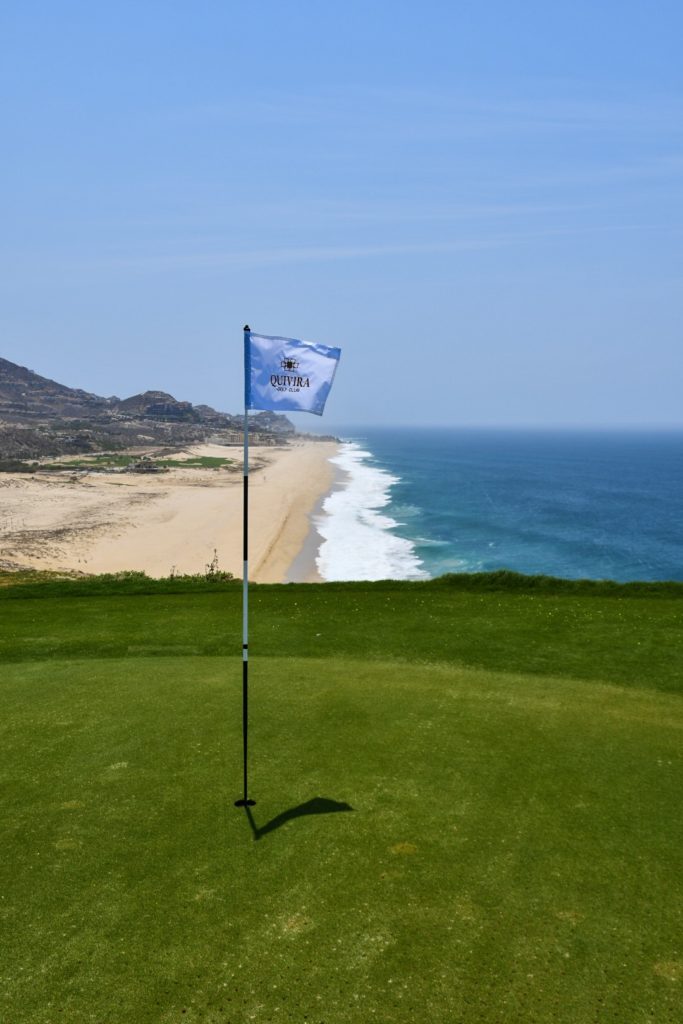 There are panoramic ocean views of the Pacific Ocean, four comfort stations, dunes, desert…I lost all of my golf balls and I didn't care because it was so beautiful out there!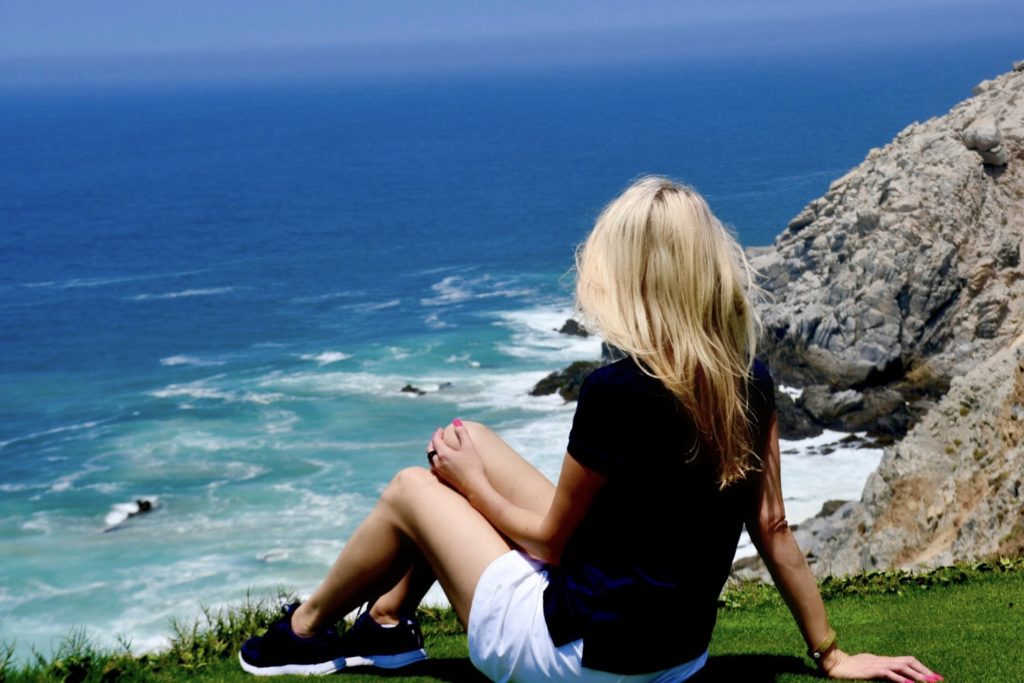 Now just a mention of what we found inside these "comfort stations". I've never experienced anything like these in my history of playing golf! Waiting for golfers are a bartender, delicious food and servers.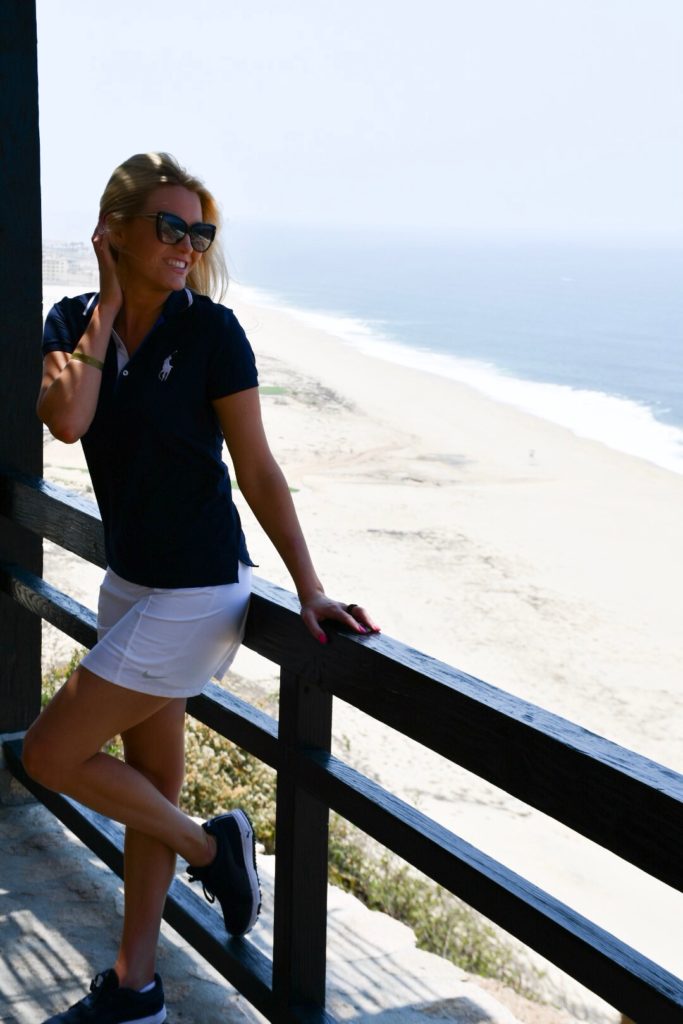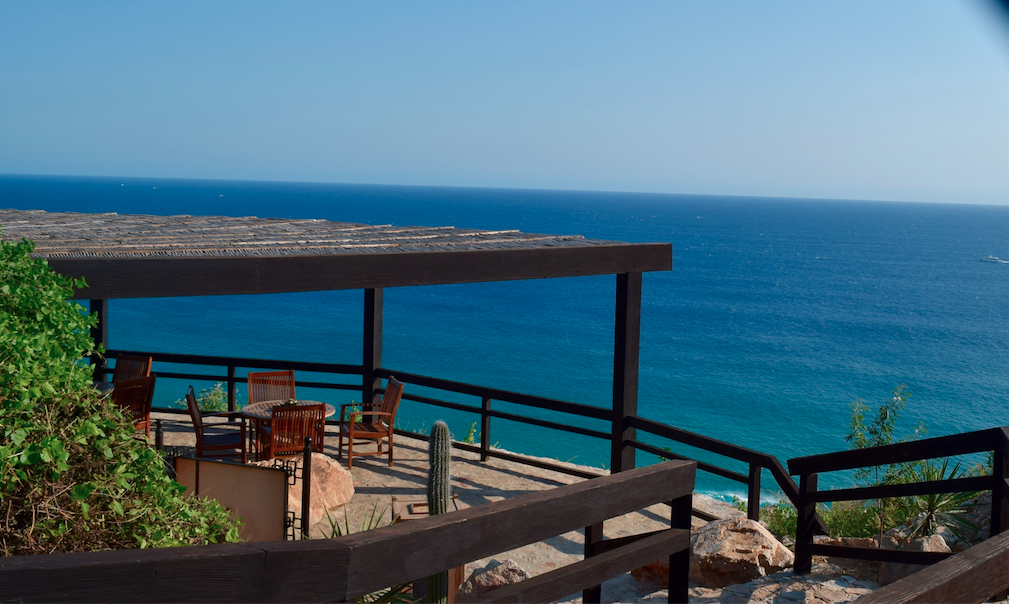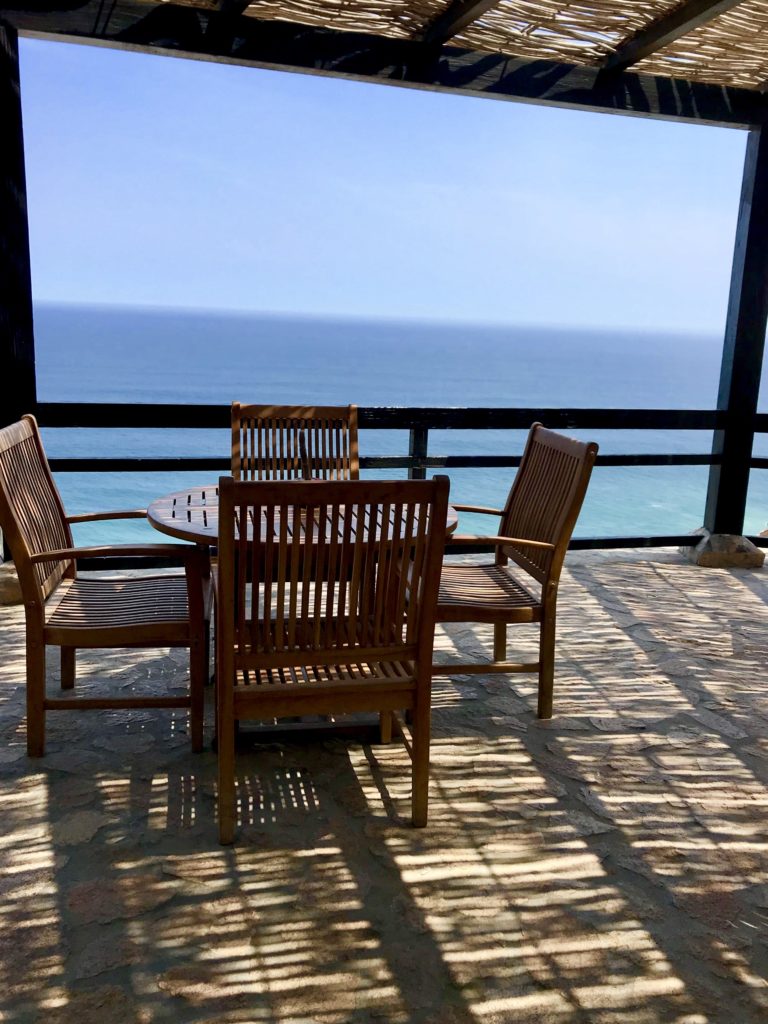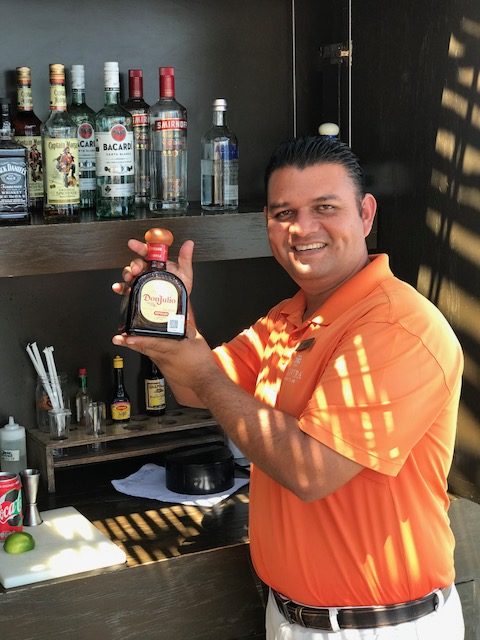 Add in the spectacular views and it was a real WOW for the two of us. To say the least, we were quite comforted at these comfort stations. Great touch!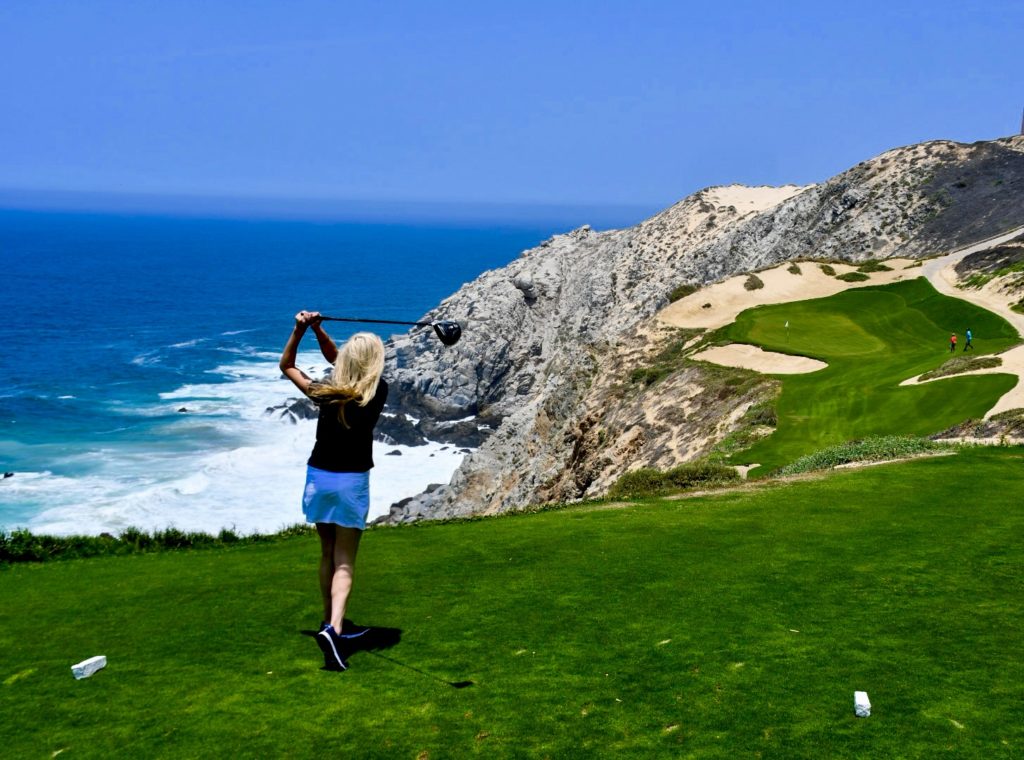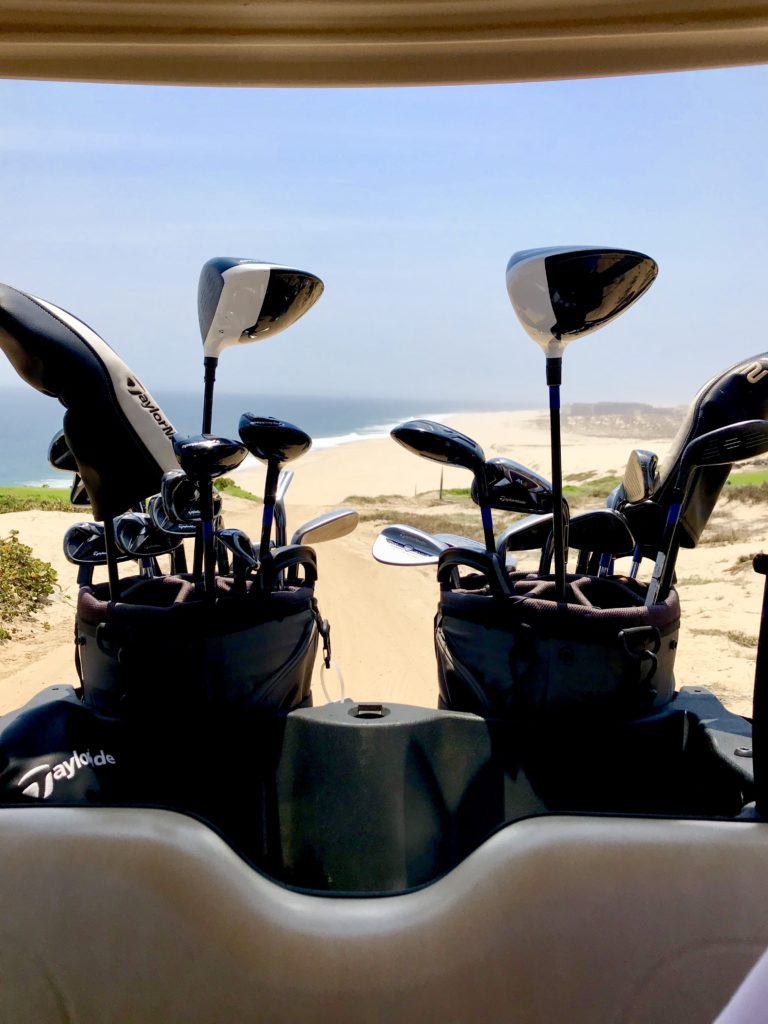 That night we thoroughly enjoyed dinner at Quivira Steakhouse, which is located at Quivira Golf Club, the new Jack Nicklaus Signature golf course at the tip of the Baja Peninsula. Quivira Steakhouse  offers indoor and outdoor dining from late afternoon through evening. We sat outside and took in the sounds and the views of the ocean.
The next morning we had a 80min couples massage at the Armonia Spa. Without a doubt the BEST massage I have ever had and I do not say that lightly. Armonia was named among the three "Best Spas in Mexico & Central America 2013" by Condé Nast Traveler magazine and I can see why.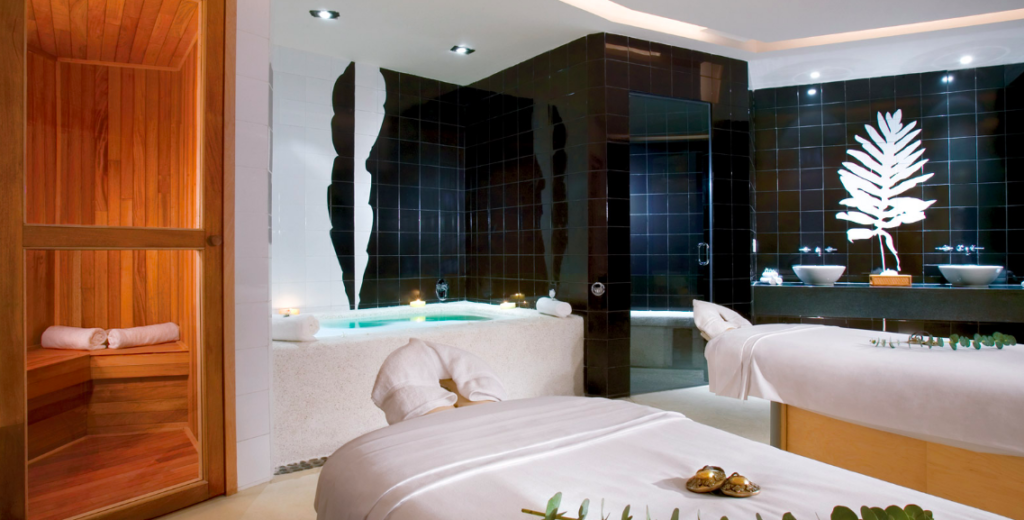 Armonia is a full-service spa offering a comprehensive menu of wellness-oriented body treatments, massage therapies, a fitness center, beauty salon, his and her locker rooms and wet areas, as well as spa gift certificates and Cabo San Lucas spa packages. This is a must place to spa! Pilar and Deborah were our masseuses – be sure to ask for one of them!
After our massages we enjoyed our cabana on the beach and feel asleep listening to the waves. Do we have to leave? Alexis (our server) made sure we are always taken care of.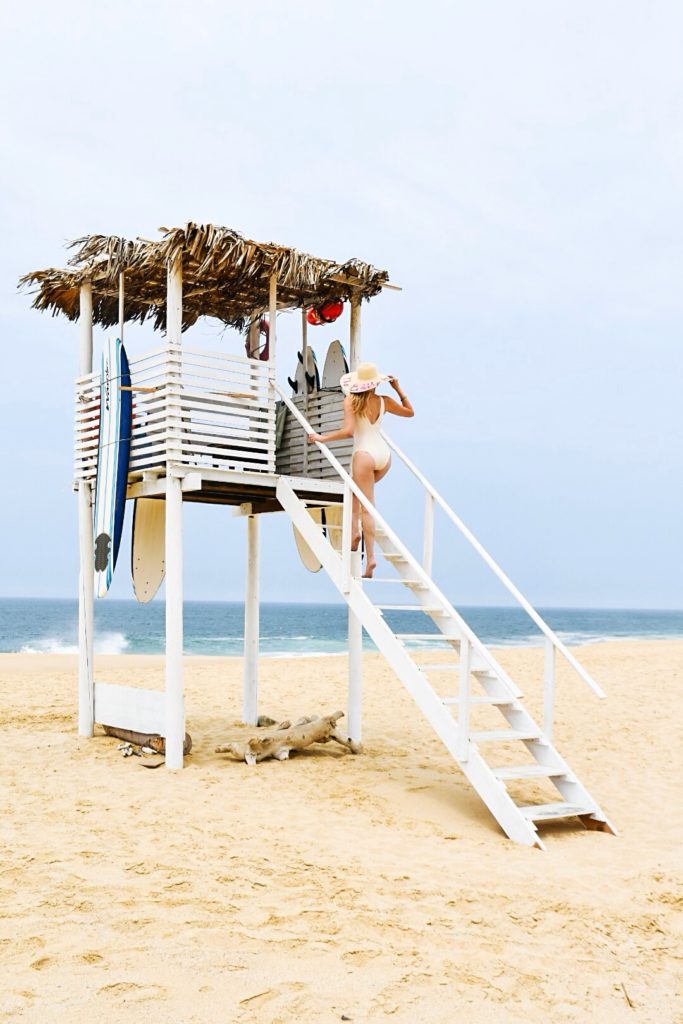 The ultimate surprise that night…we were escorted to dinner to the Common Table Experience. The name intrigued us and we immediately discovered a very unique experience that combines fresh ingredients from their private garden, mixology and the good Mexican wine from Baja.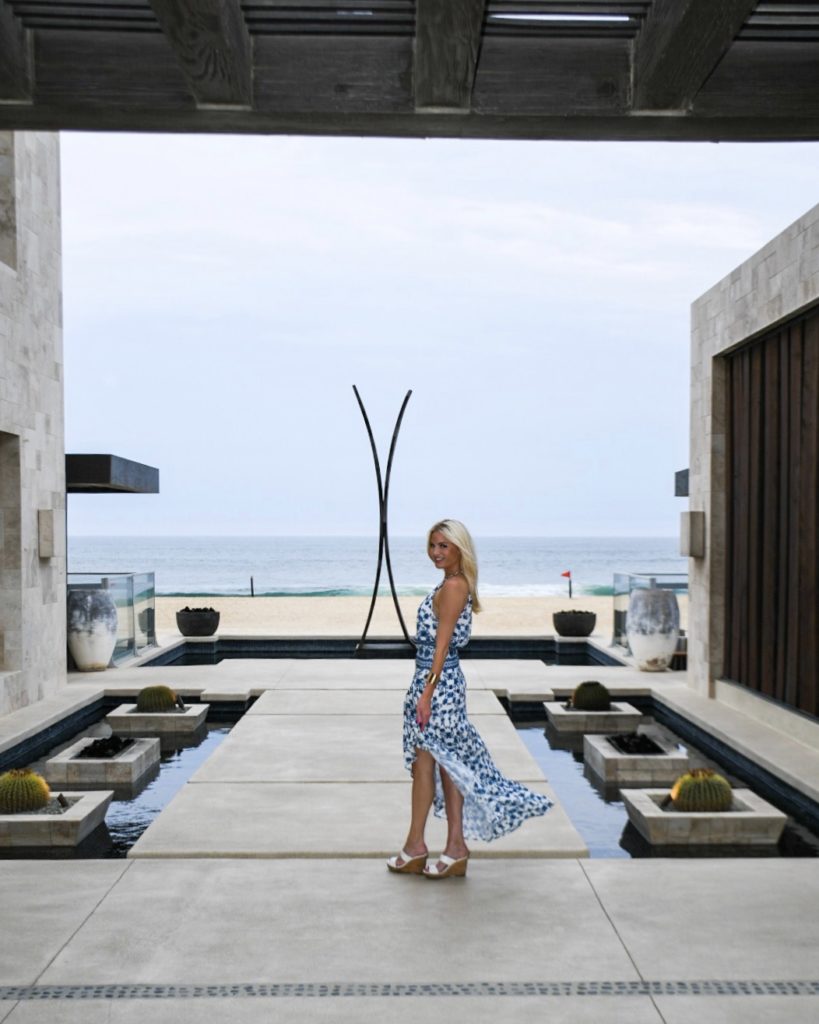 We enjoyed 6 courses with wine pairing. The dinner was just the two of us overlooking the water and it was very romantic.
Every menu item throughout our stay was fresh, perfectly prepared and simply delicious (I need to be on a diet, STAT!). During dinner there was wedding on the beach. It was beautiful and we were able to watch it from the patio. It added to the romance of our dinner quite nicely!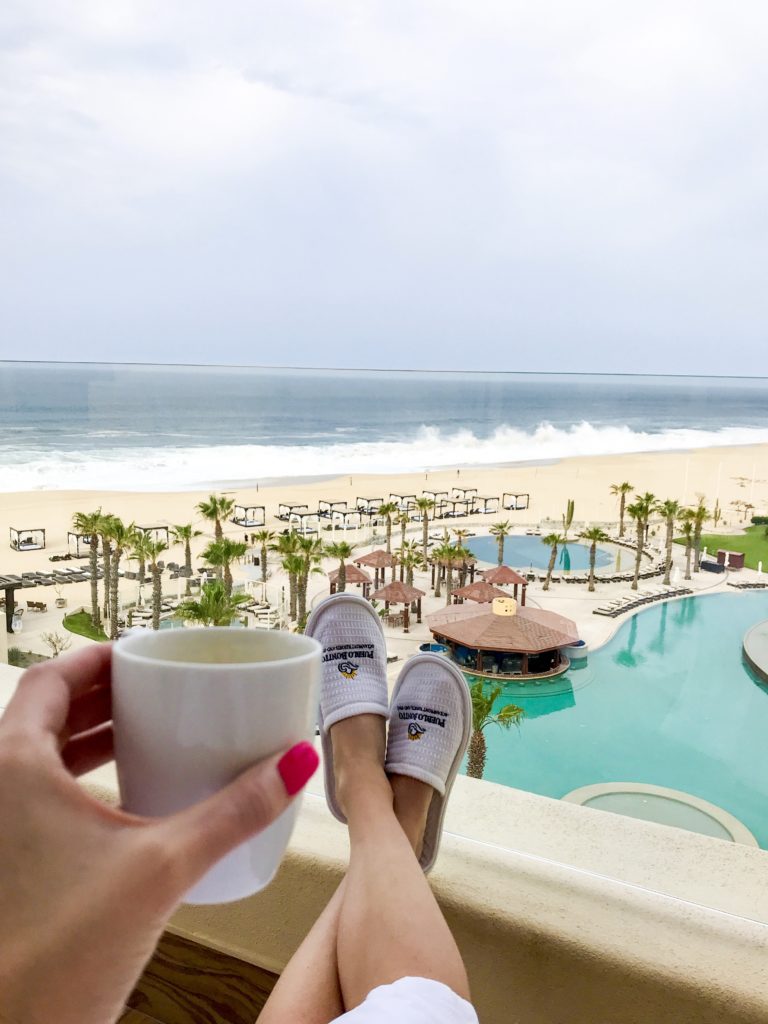 Our last day arrived! We woke up early and enjoyed brunch at Siempre. The brunch was (of course!) unbelievable! Fresh fruit, baked goods, entrees, desserts…Mimosas…we really enjoyed it and soaked in all the details since we knew we were heading home soon.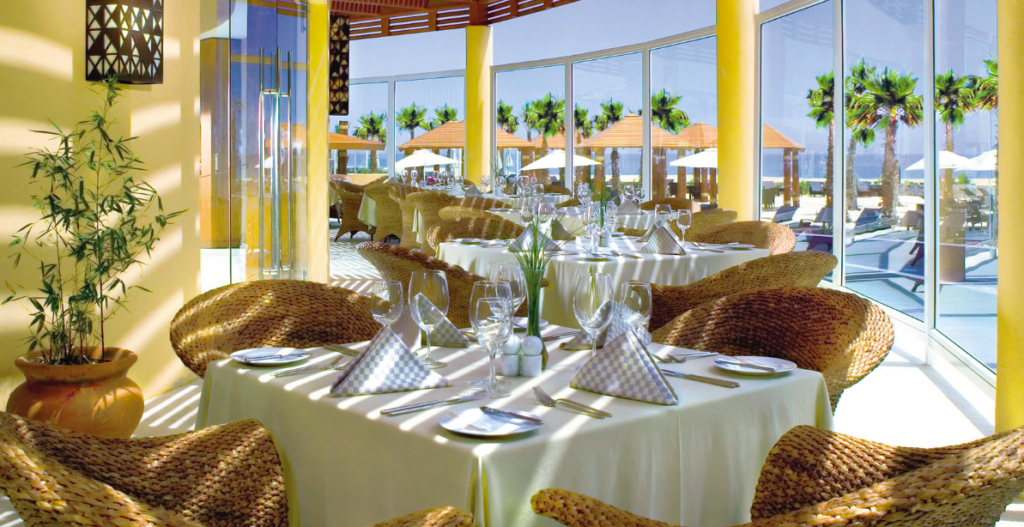 After brunch we strolled around the property one last time, enjoyed a cocktail on the beach and were taken back to the airport. We both could not stop talking about our incredible experience at the Pueblo Bonito Pacifica!
My take on Pueblo Bonito Pacifica – GO! If you are in need of relaxation and some true peace and quiet- this is your place. From the management, servers, our Butler Yomali, breakfast on the beach, golf at Quivira, massages, the private dinner at Common Table and on and on!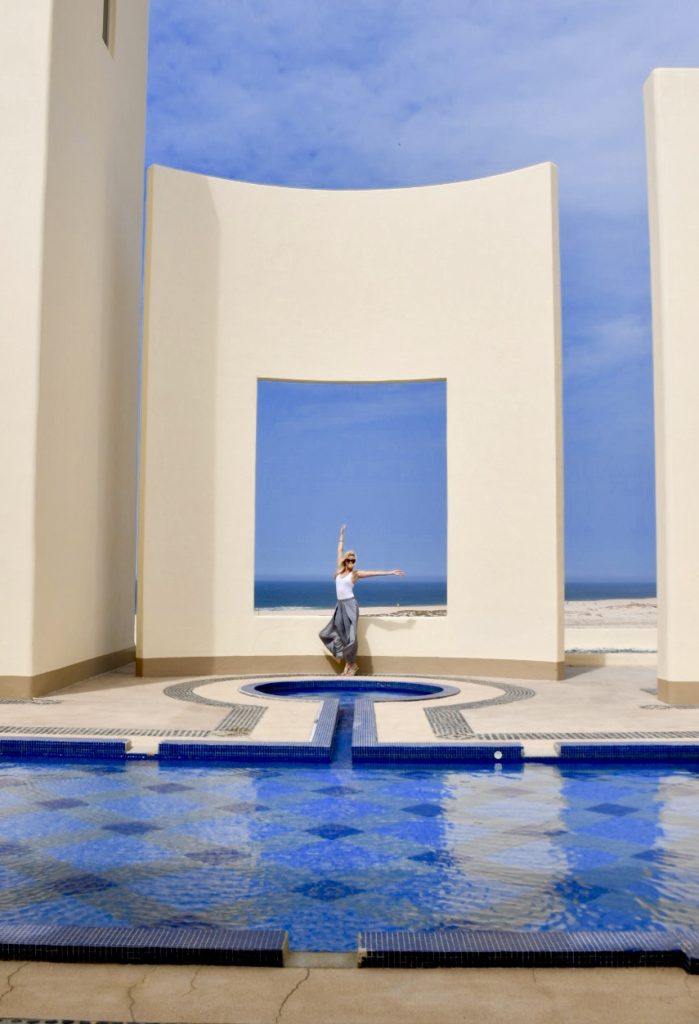 You know it is a great vacation when you experience something so special that you both say, "Can we stay?" I am so grateful for this experience and cannot wait to go back!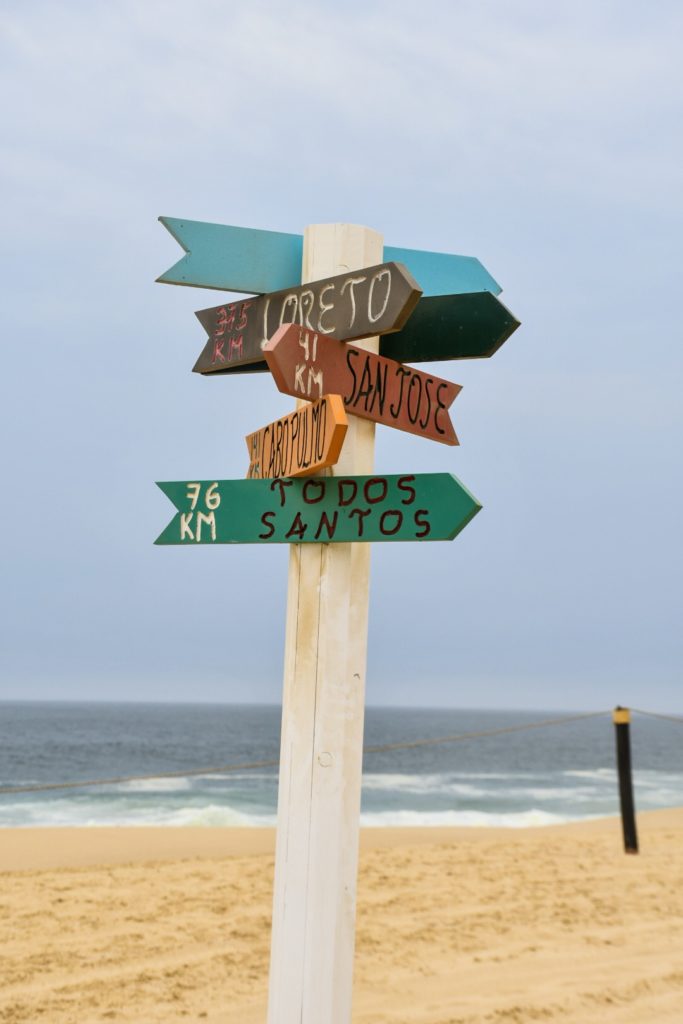 If you would like to see more behind the scenes shots of this fabulous vacation, be sure to go to my Instagram and click on the "Cabo" highlighted story.
xo
* Thank you Pueblo Bonito Pacifica Golf and Spa Resort for Sponsoring this stay and post *
Special thanks to the wonderful and caring staff who made our stay extraordinary:
Mizraim Corpus – General Manager
Adrian Nunez – Operations Manager
Delfino – Manager at Peninsula
Juan Manual – Food and Beverages Manager
Yomali – Personal Butler
Jaxier – Chef for Common Table Experience
Marcela – Waiter at Peninsula
Jordi and Fernando – Waiters at Breakfast on the Beach
Alexis – Waiter for our cabana during the day
Diana – Waitress at Pescados
Julio – Waiter at Quivira
Pilar and Deborah – Massage Therapists
Felix – Housekeeper