Women's History Month Must-Haves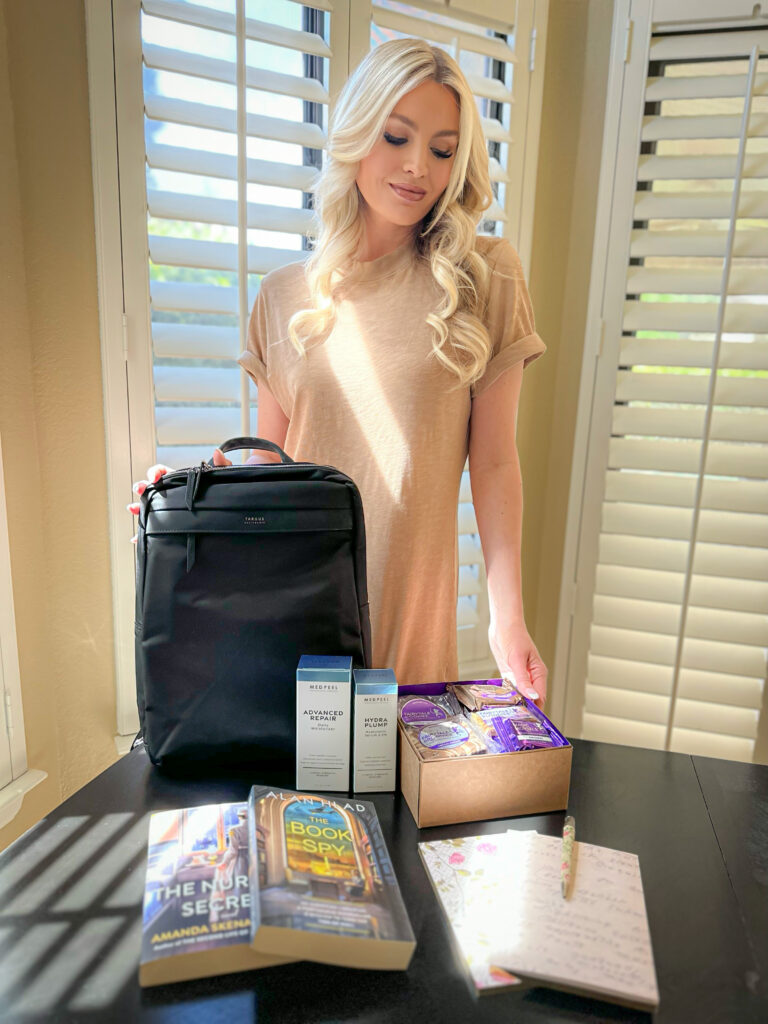 Women's History Month is an annual declared month that highlights the contributions of women to events in history and contemporary society. In this box are some incredible items for any powerful lady.
*This post is sponsored by BabbleBoxx.com. All opinions are my own.
Targus –
How cute is this 15″ Newport Ultra Slim Backpack?! Whether you are going into the office or on a fun trip, Targus has you covered.
It is designed to fit slim laptops or tablets, and offers enough room for your everyday essentials. What I especially love, you can convert this from a backpack to a handheld tote by tucking away the straps.
Shop here
Kensington Books-
Who doesn't love a great book (or two!) Here are a couple of books that you must read and/or would make great summer reads as well. THE NURSE'S SECRET and THE BOOK SPY (both fictional) are inspired by the real lives of trailblazing women who, despite their astonishing accomplishments, all-too-often are history's most unsung heroes.
The Book Spy by Alan Hlad is
Inspired by the true stories of America's heroic librarians-turned-spies of WWII! A librarian-turned-WWII spy from the New York Public Library is fated to meet a Portuguese bookseller in wartime Lisbon, a city of espionage and the last gate for asylum seekers fleeing Nazi persecution, in USA Today bestselling author Alan Hlad's love letter to the unique power of book people…
The Nurse's Secret by Amanda Skenandore is based on the little-known story of America's first nursing school, a young female grifter in 1880s New York evades the police by conning her way into Bellevue Hospital's training school for nurses, while a spate of murders continues to follow her as she tries to leave the gritty streets of the city behind…
MedPeel-
Let's face it, we all age! I have found a line of skincare that helps fight dryness, dehydration, inflammation and aging (score!).
Medpeel Advanced Repair Daily Moisturizer – is a skin-barrier repairing moisturizer featuring a powerful Triple Hydration Complex instantly quenches dryness and locks in vital moisture for beautifully healthy and radiant skin. This can be used morning and/or evening. And helps treat dryness, dehydration, inflammation and aging.
Medpeel Hydra-Plump Hyaluronic Serum 2.5% – Instantly plumps skin and diminishes the look of fine lines and wrinkles. This lightweight serum quickly absorbs into the skin delivering deep hydration to combat dryness with a 2.5% Hyaluronic Blend. Ths can be used day and/or night and helps combat dryness and minimize fine lnes and wrinkles.
Shop Hydra-Plump Hyaluronic 2.5% PDP Here
Shop Advanced Repair Daily Moisturizer Here
Fairytale Brownies-
I am a HUGE chocolate fan and this Fairytale Sampler definitely hits the spot!  This is a great gift that includes everything Fairytale bakes! This sampler includes their most popular flavors of cookies, blondies, and three sizes of Belgian chocolate brownies. There is something in this box for anyone, all individually wrapped. Can't eat them all now? Freeze them for a later savory time!
Use code BABBL15 at checkout and receive 15% off your order. No minimum purchase required. Cannot be combined with any other offers or discounts.
Expires 4/15/23 Shop here 
Levenger-
Being on the go, I always need pen and paper, so why not make it look good and have great meaning? Here is a set of two Emily Dickinson Notebooks I couldn't pass by.
The first is a delicate floral pattern, based on a fragment of the actual wallpaper from the poet's bedroom (pretty cool, huh?). The cover of the other depicts, in Dickinson's own handwriting, the manuscript of her poem "Tell all the truth, but tell it with a slant."
Retro 51 and the Emily Dickinson Museum in Amherst, Massachusetts, has created this capless rollerball pen which has a lacquered brass barrel featuring a floral pattern based on the wallpaper from the poet's bedroom. The pen is housed in a storage cylinder that can be used as a pen stand.
These are exclusive designs available only from Levenger and will not only help you out, but would make a Mother's Day gift as well.
Get 20% off your purchase with promo code LEVGIFTS23 now through 5/1/23
Shop Here