Hello Beauties! I recently started a new skin care routine that I can't wait to share with you! I have extremely sensitive skin; so trying any new skin products is a scary matter for me. I have battled redness and breakouts my entire life (really) and have wanted to try different products, but have always been too scared. Well, that has now changed!


Photo by: Image-Industry
Aesthetician, Emme Diane recently reached out to me and offered to share her products and give me a facial, so I could learn about her, her amazing products and more about my own skin. Well, as you might have figured out, I took Emme Diane up on her proposition and would like to help you get you a little better acquainted with Emme Diane.
Emme Diane L.E., is a licensed esthetician on a mission to solve the seemingly unsolvable skin issues, from acne to aging and everything in between. With more than 18 years of professional experience in both medical and spa esthetics, Emme Diane is actually known for solving "unsolvable" skin concerns, from acne to sun damage and aging skin.
One of the reasons I agreed to try Emme Diane products (besides being won over by her sparkling personality!) is because I'm not terribly knowledgeable about skincare products, but am very curious! I also wanted to learn what might help improve my somewhat problematic skin.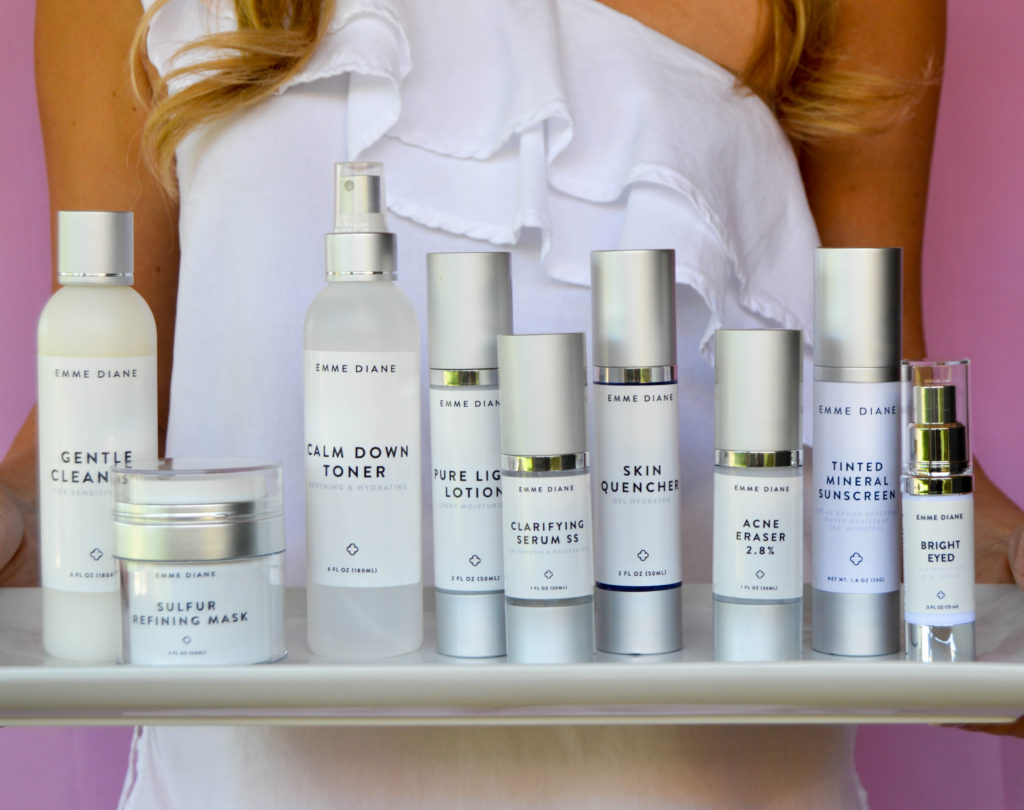 A few weeks ago I had the pleasure of meeting Emme of Emme Diane in person and she is not only beautiful, but she's one of those incredible women who loves to help other women! This talented woman actually wanted to help improve my skin and make it beautiful too! Now here's the best part, the facial she gave me was amazing and I honestly did not get ONE breakout afterward (typically when I have any sort of facial treatment done, my skin breaks out). She sent me home with great products of her Emme Diane skincare line to test, enjoy and see how I like them….read below ( hint: I loved them!). Also, please read to the bottom of this blogpost for the Promo Code and an exciting Giveaway opportunity you're not going to want to miss!
My Personalized Morning Routine Straight From Emme Diane: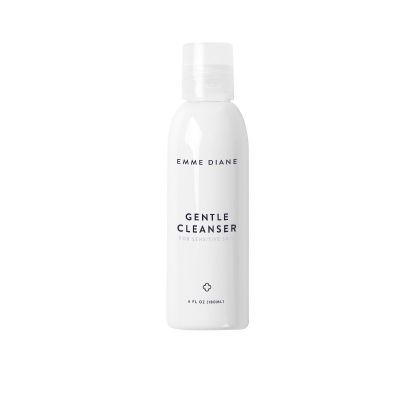 I'm always looking for a cleanser that leaves my skin feeling clean, but also can completely remove the heavy makeup I wear on photo shoot days. Emme Diane's Gentle Cleanser took off every last bit of my makeup and has a very light, clean scent.
The Gentle Cleanser is an antioxidant rich, low-lather cleanser, which is perfect for sensitive skin (or any skin type, for that matter!) The silky gel cleanses thoroughly without drying your skin and I truly like it! Very nice product!
Ice!
I never knew this was something I could use to help stimulate my facial circulation and bring on a healthy glow. This is a GREAT Emme Diane tip! So, now I massage 2 ice cubes onto my face every morning for 1 minute in a continuous circular motion then pat my glowing face dry. Try this Insider Tip, because it really does help get your glow on!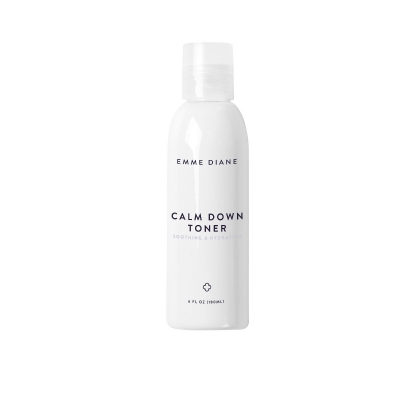 Calm Down Toner (spritz 12 times)
I had not ever used a toner, so this product intrigued me! This truly unique toner combines the power of oxygen electrolytes and soothing aloe vera, and the toner releases oxygen slowly to aid the body's natural defense and repair process. Incredibly calming and nourishing, this toner is perfect for any skin type, but especially good for dehydrated skin, inflamed acne, dermatitis, sensitive or irritated skin.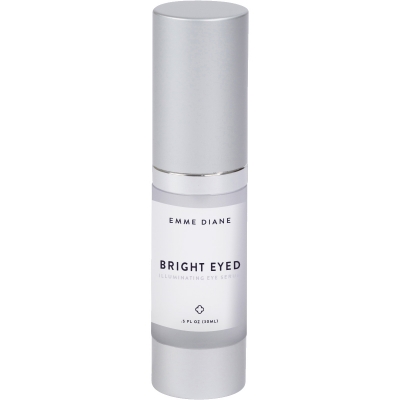 Bright Eyed Illuminating Eye Serum (optional, but I highly recommend it).
As we age, most of us want to stay looking our very best. If this describes you, then this great product is for you! This luxurious all-in-one eye serum visibly firms, lifts and sculpts eyelid contours as well as minimizes dark shadows, puffiness, fine lines and wrinkles and it feels great on your skin!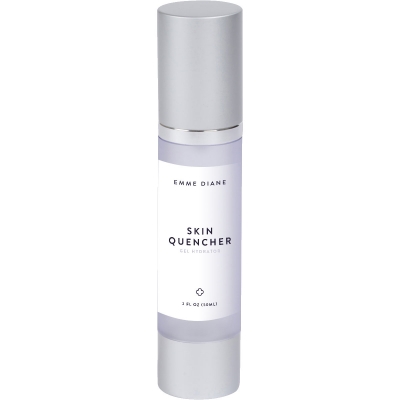 Being in Arizona my skin is constantly feeling dry or thirsty. Skin Quencher is a super quick fix for dehydrated or environmentally damaged skin. The water-based, gel hydrator instantly replenishes water moisture to your skin and gives it a refreshed, plump and hydrated glow. Fabulous serum that does what it claims to do!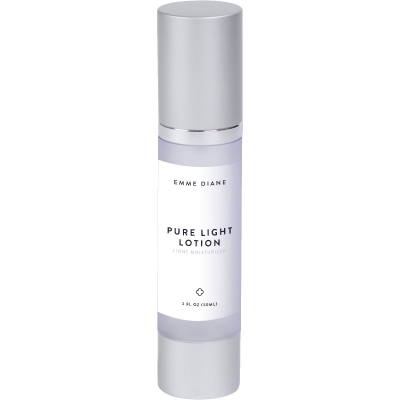 Pure Light Lotion (Moisturizer)
What I like about this moisturizer is that is light, water-based and has helped restore the moisture balance of my skin. It's also perfect for combination/oily skin and sensitive skin (me!), and the non-greasy lotion will give your skin the all day moisture it craves, as well as helping to reduce excessive oiliness. (Emme Diane is a GENIUS!)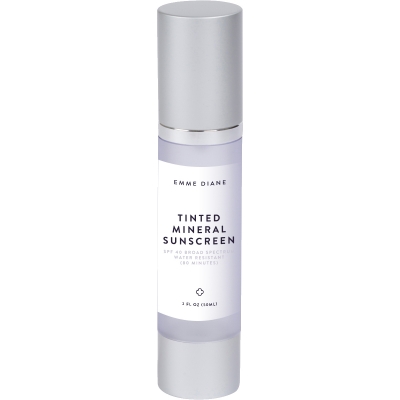 I have been using the Tinted Mineral Sunscreen and I love it! It goes on perfectly. I actually wear it to the gym to give my skin an even appearance and I have not broken out!
The Tinted Mineral Sunscreen almost instantly had a cult following when this favorite Emme Diane product launched! It has a sheer, mattifying, silky finish and is water and sweat resistant for up to 80 minutes.
Benefits of the Tinted Mineral Sunscreen:
Sheer Tint
Mattifying
Broad Spectrum SPF 40
Physical Sunscreen (Zinc Oxide & Titanium Dioxide)
Water and Sweat Resistant up to 80 minutes
Non-comedogenic
GREAT PRODUCT!
My Skin Care Evening Routine Designed by Emme Diane:
Gentle Cleanser (use as above)
Ice (even at night!)
Toner (Spritz 12 sprays again) See above for details
Bright Eyed Eye Cream (optional, but I use it faithfully) see above for details.
Serum(s)
Skin Quencher Serum: I began using this serum every third night and now have graduated to using it every other night. My skin has acclimated nicely and doesn't feel dried out any more.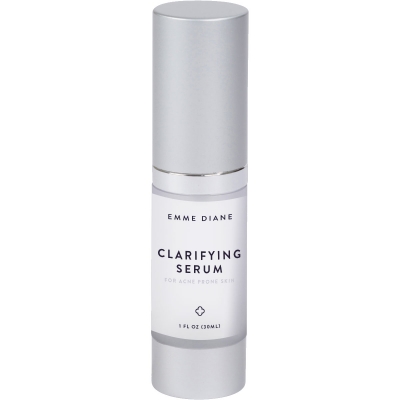 Clarifying Serum: I apply a pea sized of this amazing product to my entire face being careful to avoid sensitive areas. The Clarifying Serum is for brighter, clearer and more youthful looking skin. It's also great for acne prone skin, thanks to the multi-tasking fruit acid, Mandelic Acid. This serum also helps to clarify skin, treat and prevent post-inflammatory pigmentation and evens skin. I love this product.
Pure Light Lotion (Moisturizer) See above for details
Extras from Emme Diane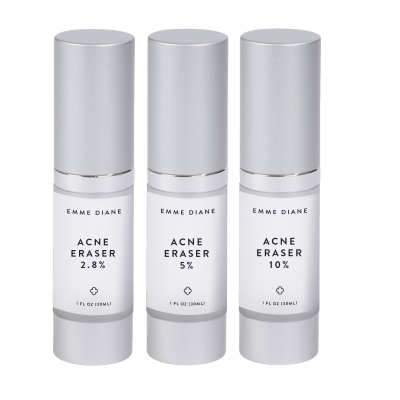 This effective benzoyl peroxide gel is formulated to kill acne bacteria and assist in clearing the skin of inflamed acne. It is available in 3 strengths to treat mild, moderate or severe acne.
2.5% is best for ultra sensitive skin
5% (most popular) is best for mild to moderate acne
10% is good for more severe acne and also for acne on the back and chest
I keep this handy product close by, just in case a pimple pops up, but I truly have NOT broken out since my facial and faithfully using Emme Diane products!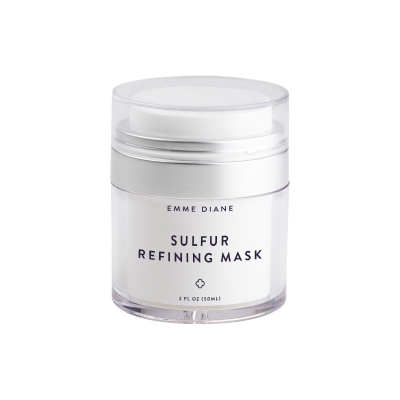 A therapeutic mask specifically formulated for acne prone skin. Formulated with Sulfur, it helps to breakdown black heads, whiteheads and also acts as an antibacterial agent. It gently exfoliates your skin, allowing for the regeneration of fresh, new skin. Also, contains Bentonite and Kaolin, which help to draw out impurities and clear the skin of excess oil and dirt. This mask is used to reduce inflammation of the skin, fight bacteria, absorb excess oil and exfoliate dead skin cells. Genius!
I use this mask 1-2 times per week, leaving on my face for 3-5 minutes, not longer. I usually apply it and brush my teeth.
I highly recommend these products and will happily continue using them! I am also beyond grateful that Emme Diane reached out to me and allowed me to experience her amazing products. The fact that I can use her products without the fear of breaking out, especially on photo shoot days is so great! If you try her products, I know you will like them too.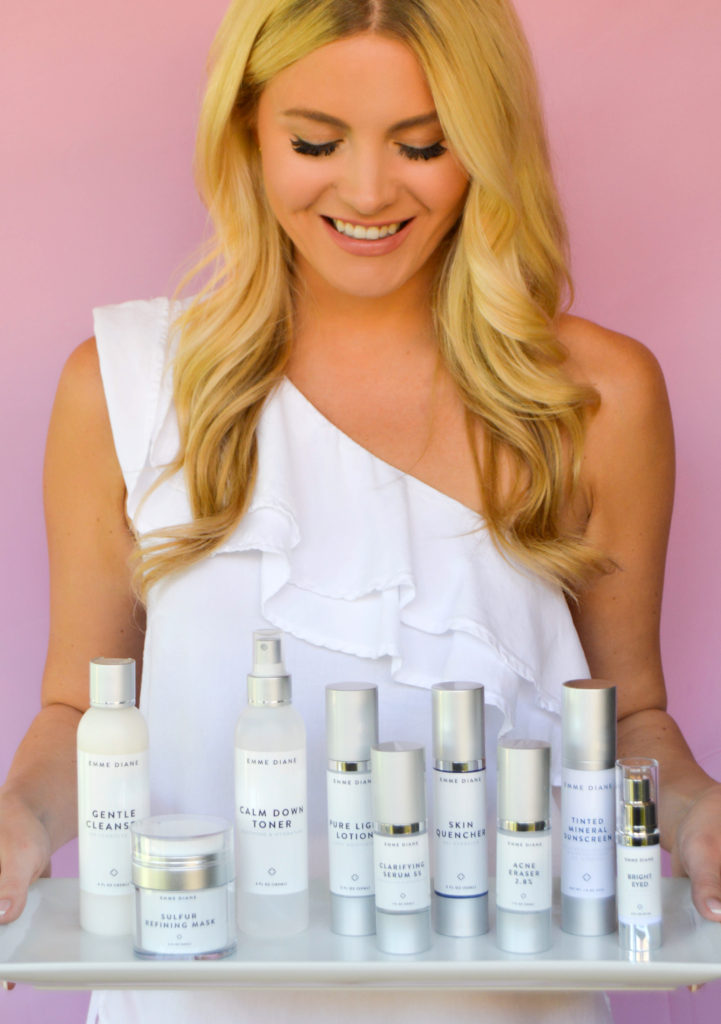 To purchase from Emme Diane (or book a treatment from her in person or online!) go to www.EmmeDiane.com Also enter McKenna10 at www.EmmeDiane.com at checkout for 10% off your order (for new customers only).
AND
I am hosting a giveaway on my Instagram!
It's super easy to participate, but it only qualifies on Instagram.
Here are the details!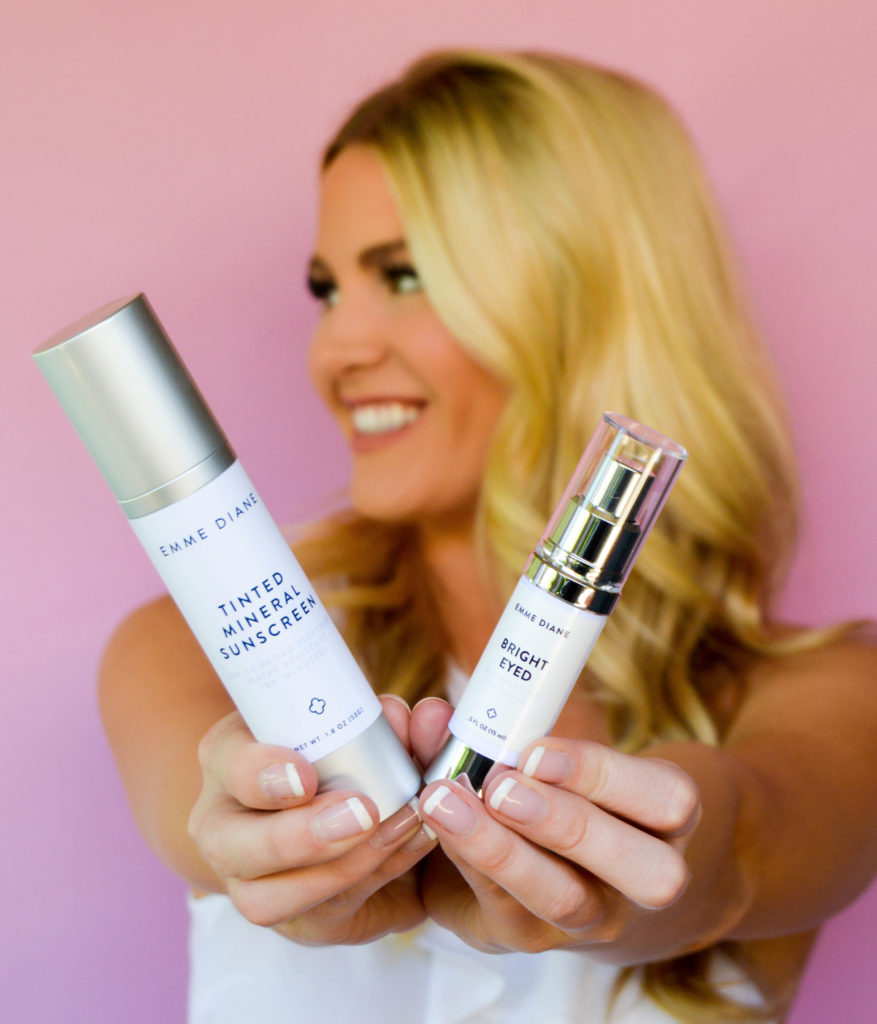 Enter to win an @EmmeDiane Mineral Tinted Sunscreen and Bright Eyed Serum!
Follow me (@thebubblyblondelife)
"Like" this photo (will go live at 4pm PST June 14th)
Follow @EmmeDiane
BONUS tag a friend
This giveaway will run from June 14th-June 16th and the winner will be announced on Instagram on June 17th. Best of luck!
xo
*Thank you Emme Diane for sponsoring this post